Rivers' edge: Mom-daughter dumped by TV Guide Channel
04/18/07 05:47 PM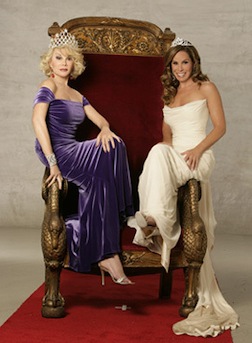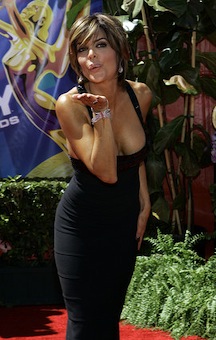 Red carpet smackdown: Joan & Melissa dethroned by Lisa Rinna.
By ED BARK
The world briefly spun off its axis Wednesday when TV Guide Channel announced that it's sweeping Joan and Melissa Rivers under the rug. Or more specifically off the red carpet.
The flappy/sappy mother-daughter duo is being replaced by Lisa Rinna, who showed up on
Dancing with the Stars
Tuesday to promote her other activity -- a starring role with husband Harry Hamlin in Broadway's latest re-do of
Chicago
.
Rinna has "the perfect mix of charisma, poise and experience to lead our live Red Carpet coverage at the major industry award shows," TV Guide Channel said in a statement. Whatever.
Joan, 73, and daughter, Missy, 39, left E! Entertainment Television in 2004 to supposedly put the puny TV Guide Channel's red carpet coverage on the map.
Instead the Rivers' found themselves testing a time-honored puzzlement. If a tree falls in the forest and no one hears it, is it a sound? If Joan Rivers asks "Who are you wearing?" and no one watches, is it a television show?
The elder Rivers says she'll be back. Her latest blog on
joanrivers.com
puts it this way: "I will tell you my true feelings and experiences as soon as we finalize our new deal." Ever the show biz trooper, Joan also offers tips on "What a Gynecologist Should Not Do."
Back in January, when the world was young and the Donald Trump-Rosie O'Donnell feud still flamed, Joan happily gabbed about hosting the Golden Globes pre-show on TV Guide Channel.
She hoped to meet Sacha Baron Cohen on the red carpet. "I will be kneeling at his feet in worship," Joan told unclebarky.com on an audio tape that shockingly became useful Wednesday.
Now living in New York, she talks to Melissa daily on the phone and "we get together (in Los Angeles) as often as E! flies me out."
"TV Guide," her daughter corrected, sending mom into gales of laughter.
"I'll be going home on Jet Blue now," she cracked.
Or maybe a stagecoach now that even TV Guide Channel has tuned her out.
She'll be back, though. Or if not, there's still that weekly nightclub gig at Manhattan's Cutting Room.
"I use my left boob now as a stopper in my tub," she said on a recent Bravo special that incorporated her act. And her dates are getting so ancient that "one guy gave me a hickey, left his teeth in my neck."
That kinda comedy belongs on a red carpet.