NBC's Smash tries nights on Broadway as viewer lure
02/02/12 04:09 PM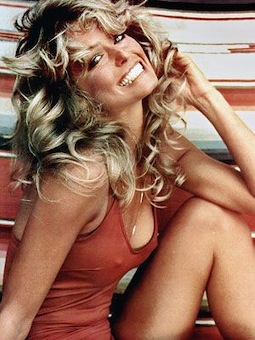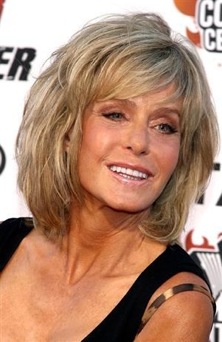 By ED BARK
Farrah Fawcett, the Corpus Christi-born golden girl whose iconic poster and showy
Charlie's Angels
role made her a mega-star, died Thursday at age 62 after a prolonged and highly publicized battle with cancer.
Fawcett's own movie about her travails,
Farrah's Story
, was shown just last month on NBC. ABC already has scheduled a Barbara Walters special,
Farrah Fawcett: Her Life, Her Loves, Her Legacy
, for tonight at 9 p.m. (central). Earlier Thursday on ABC's
Good Morning America
, Walters had said, "I'm not sure if she's going to make it through the day. She's had her last rites."
NBC is countering with a two-hour combined
Dateline
special (8 p.m.) tied to the deaths of Fawcett, and late Thursday afternoon, Michael Jackson. And the network will re-broadcast
Farrah's Story
on Friday, June 26th at 8 p.m.
Fawcett starred as glamorous gumshoe Jill Munroe for only the first season of
Angels
, which became an instant eye-catching hit on ABC after premiering in fall 1976. Her abrupt decision to leave, in pursuit of big-screen stardom, sparked lawsuits and an eventual settlement that required Fawcett to make occasional guest star appearances during the show's next three seasons.
When
Angels
soared to No. 5 in the prime-time ratings during its first season, "I figured it was our acting," Fawcett told
TV Guide
after leaving the show. "When we got to be No. 1 (actually its highest season-ending finish was No. 4), I decided it could only be because none of us wears a bra."
Her feature film career never took wing, with flops such as
Saturn 3, Sunburn
and
Somebody Killed Her Husband
sending her back to the friendlier confines of television.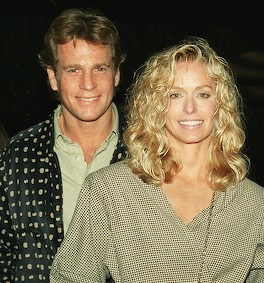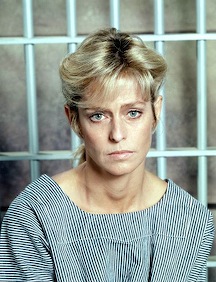 Ryan-Farrah all aglow and the actress behind bars in Burning Bed
Fawcett's coming-out party as a "serious" actress was in the 1981 NBC miniseries
Murder In Texas
, where she received favorable reviews as the ill-fated Joan Robinson. She went on to earn two Emmy nominations, as battered housewife Francine Hughes in NBC's 1984 movie
The Burning Bed
and as murderess Diane Downs in the 1989 ABC miniseries
Small Sacrifices
.
All three projects, each based on a true-life story, conceivably could have been made for the big screen. But Fawcett already had become a realist by then.
"I don't think those parts would have been offered to me," she said in a 1989 interview with this writer. "They would look for somebody like Meryl Streep, who has a record of carrying a film."
Fawcett had tried to escape her cheesecake image by deglamorizing herself in these roles. In
The Burning Bed
, for instance, she wore what was described as a $1 K Mart top.
By 1992, though, she had grown weary of playing victims or victimizers. So she took on the role of hard-talking defense attorney Jessie Lee Stubbs in ABC's
Criminal Behavior
movie.
"I was looking for something to do that was not based on a life-or-death true story, which we've been inundated with in the past couple of years," Fawcett said in a second interview with this writer.
"I find it difficult to break out of those kinds of roles, because unfortunately they usually are the best-written scripts. Right after I did
Murder In Texas
, I tried to get
The Burning Bed
made, and no one would do it for three years. You try so hard to get something done at a particular time, and it doesn't get done. And then the very thing you fought to get done is now the very thing you're fighting against doing.
"It's really a vicious cycle. The things they offer you are the things you've had success in. But why do it again? I'm slightly offended that we keep getting offered these victim or crazy women roles. We deserve the right to be in something that's entertaining."
Fawcett, who attended the University of Texas at Austin in the mid-1960s but didn't graduate, had a long and often problem-plagued relationship with actor Ryan O'Neal, who was with her at the end. But her only marriage was to actor Lee Majors, with the couple divorcing in 1982.
Fawcett and O'Neal teamed as dueling sportscasters and former lovers in the 1991 CBS sitcom
Good Sports
, which was quickly canceled but received generally good reviews.
"It's the last, the very last TV series I'll do," she said a year later. "I need to be creatively stimulated and challenged, and for me to repeat the same character, it's not interesting for me. We were never able to do exactly what we wanted. We would get script changes at 3 o'clock in the morning. We were so off-balance, we didn't have time to say we didn't like it."
In later years, Fawcett mostly made news playing herself in attention-getting projects such as 1997's
Playboy: Farrah Fawcett, All of Me
and the 2005 TV Land reality series
Chasing Farrah
, which the network will be repeating in part on Saturday night.
Fawcett also made a decidedly discombobulated appearance in 1997 on CBS'
Late Show with David Letterman
, during which she offered a rambling discourse on escaping fans in Central Park.
Mostly, though, she'll be remembered as the blonde bombshell who put the "jiggle" in
Charlie's Angels
during times when the then Big Three broadcast networks -- ABC, CBS and NBC -- controlled 90 percent of the television viewing audience while cable was still being birthed.
"You break one image and then you're stuck with another," Fawcett said in our 1989 interview. "I've always had people feel very strongly about me -- one way or the other."