Tim Russert: May 7, 1950 to June 13, 2008
06/13/08 02:58 PM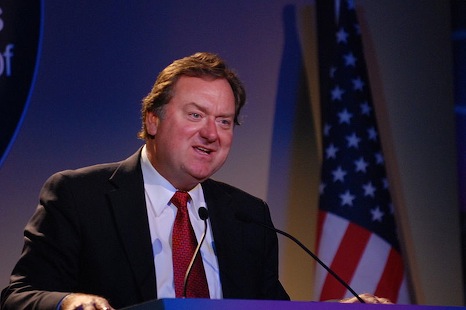 By ED BARK
This is very sad and shocking news.
Tim Russert, moderator of NBC's
Meet the Press
and one of the country's foremost political junkies, died Friday afternoon of a heart attack. He was 58 and reportedly collapsed in the network's Washington bureau while working on a story. He had just returned from a vacation in Italy with his wife, Maureen Orth, and son, Luke. They were celebrating his graduation from Boston College.
All of the cable news networks immediately began eulogizing him throughout the afternoon. Politicians of every stripe and seemingly every prominent journalist in the country contributed thoughts on Russert's passing.
"He had a passion for life. And boy, did he love Bruce Springsteen," NBC colleague Tom Brokaw said on MSNBC at mid-afternoon Friday.
"So accessible. And he loved talking to people," veteran NBC political reporter Andrea Mitchell said. She later was near tears while extolling Russert as the mentor who taught her virtually everything about covering politics.
"There was no one who was filled with more life and love than Tim Russert," Mitchell said.
"When it had to do with politics, the question that always followed was, 'Have you run it by Tim?' "
NBC Nightly News
anchor Brian Williams noted.
"He was a man in full. He was the king in Washington," said Fox News Channel's Chris Wallace, who himself moderated
Meet the Press
from 1987 to 1988. Russert took over the landmark program in 1991, succeeding Garrick Utley.
"Somewhere he's saying, 'Oh darn, why couldn't it have happened after the election?' " Barbara Walters said on MSNBC.
She also wondered about the stress and strain that Russert and other workaholic journalists put on themselves: "Is this business in its own way a killer?"
"This is a blow to America," veteran Republican speechwriter and analyst Peggy Noonan said on MSNBC. "He had a kind of love of country that was clear."
Russert, whom I interviewed on several occasions, was garrulous, passionate and notably compassionate. When NBC colleague David Bloom suddenly died in Iraq in April 2003, a shaken Russert had a hard time composing himself on
Meet the Press
.
"Spontaneous, unrehearsed, candid, sometimes breathless, always on target," Russert said of Bloom. "He wasn't just good on his feet. He was dazzling and unfailingly human."
That describes Russert as well, whether affectionately writing about his father in the 2004 bestseller
Big Russ and Me
or grilling a who's who of political notables on
Meet the Press
and elsewhere.
I last talked to him in person at the 2004 Republican National Convention in New York City, and have a memento of that occasion. Russert handed me one of the old-school "white boards" he had used during on-air discussions of projected electoral vote totals.
Below is a picture of it. Rest in peace, Tim Russert. You could always be counted on.