TV pathfinder Sid Caesar bows out
02/12/14 05:15 PM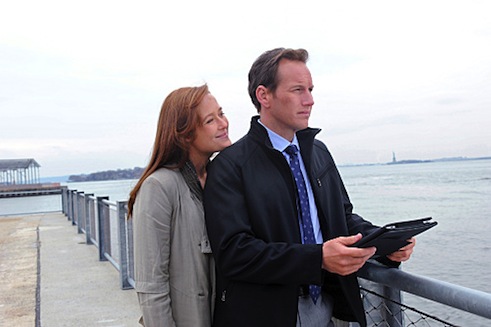 She's a ghost, he's her ex-husband on A Gifted Man. CBS photo
Premiering:
Friday, Sept. 23rd at 7 p.m. (central) on CBS
Starring:
Patrick Wilson, Jennifer Ehle, Margo Martindale, Pablo Schreiber
Produced by:
Susannah Grant, Neal Baer, Carl Beverly, Sarah Timberman
By ED BARK
CBS hasn't had a hit medical drama in ages.
It's done OK in recent years with the supernatural, though.
Ghost Whisperer
ran for five seasons on Friday nights and then
Medium
hung in for a year-and-a-half after CBS rescued it from NBC's cancellation.
So what to do next? Pair a hard-charging, career-obsessed doctor with an ex-wife who's returned from the dead. And lead off Friday nights with them in hopes that CBS viewers will have missed seeing ghosts on this night and at this hour.
A Gifted Man
, the only one of five new CBS series to be "updated" with a revised inaugural episode, is still falling short of making a dynamite first impression. Still, it's a fairly affecting opener in which someone dies but at least isn't murdered. On crime-choked CBS, that qualifies as a stroll through the park on a beautiful day -- with benefits.
Patrick Wilson stars as Manhattan-based Dr. Michael Holt. He's first seen brow-beating co-workers in the operating room, making him initially seem like Dr. Gregory House or, for TV viewers with long institutional memories, Ben Casey.
But what if either of those guys were to be revisited by a beaming, sweet-tempered ex-wife who looks like a younger Meryl Streep? And what if they got along great despite their breakup in Alaska? And then what if Michael learned that Anna Paul (Jennifer Ehle) in fact had died two weeks earlier on the eve of taking a director's job at the Clinica Sanando in a poor NYC neighborhood?
Well, Michael at first is more than a little spooked. But Anna's soothing and recurring visits start to take the edge off his brusque behavior. He even starts behaving humanely, bringing a poor Hispanic mom and her sick kids to his high-toned hospital for some on-the-house health care.
First do no harm -- as they say in the medical profession.
A Gifted Man
won't kill any brain cells if you want to give it a try. But it's not all there yet with an unwieldy mix that also includes two life-threatening cases, a few scenes with Michael's frazzled sister, Christina (Julie Benz) and her problematic teen son and an attempted exorcism of sorts by a mystic named Anton (Pablo Schreiber). Publicity materials say he'll be a series regular, as will Michael's sharp-tongued aide, Rita Perkins-Hall (Margo Martindale fresh off her best supporting actress Emmy win for
Justified
).
There's also this central question: why did Michael and Anna break up in the first place? Yeah, he was starting to put his career first and she obviously was more of an idealist. But this is the sweetest woman on the face of the earth -- or so we have every reason to believe. And she's gorgeous, too.
In death, she's also life-affirming.
"I have all these things to finish. All these doors I left open," Anna tells Michael. Won't he help her close them? By the way, she asks him very, very nicely.
"You don't fit into who I am," he replies. "I can't be delusional."
"Why can't I be the one thing in life you don't understand?" she counters.
But he says that's always been the case.
Don't worry, though. She's not going anywhere, because CBS may well need a friendly ghost to make one of its medical dramas finally click.
Your Friday night alternatives at this hour on the other four major broadcast networks are ABC's transplanted
Extreme Makeover: Home Edition
, NBC's on-its-last-legs
Chuck
, Fox's hell-raising
Kitchen Nightmares
and The CW's ass-kicking
Nikita
.
In that realm, CBS' spirit is willing and a viewer's flesh is weaker if you're lucky enough to have reached the end of another long work week. Soothing the soul with an otherworldly massage may not be such a bad idea under the circumstances.
GRADE:
C+