Dale Hansen: locked in and loaded (with "unplugged" opinions) at Belo8
04/03/07 04:42 PM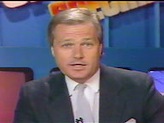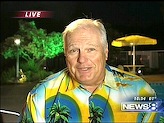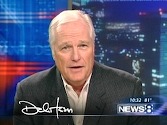 Dale Hansen: Standing the test of time in a big-time sports market.
Dale Hansen
, dean of D-FW sports anchors, is set to sign a new longterm deal at Belo8 that will keep him at the ABC station through 2013.
At that point, Hansen would be 65 years of age with 30 years under his belt at Belo8, where he matriculated in 1983 after being fired by rival KDFW-TV, then a CBS affiliate.
An on-air promo showed Hansen hopping into a cab in front of his old employer's downtown studios. "Yes, Dale Hansen is moving up to to Channel 8, joining the team that sets the standard," viewers were told.
All these years and a few Barry Switzer shoulder punches later, he's still the livest wire in local TV news.
"A certain symmetry there, don't you think?" Hansen said Tuesday of the milestones he'll reach at the end of his contract.
"I am happy," Hansen told unclebarky.com. "When you're 59, fat and bald, and someone is willing to keep paying you, 'happy' probably doesn't describe it. I really do enjoy what I'm doing -- whatever that is. And this will enable me to buy at least three more Hawaiian shirts."
Hansen's flamboyant style and "unplugged" commentaries have put some viewers off their feed. He's had running feuds with the likes of Dallas Cowboys owner Jerry Jones, Dallas Mavericks owner Mark Cuban and former Cowboys coach Switzer, of course. Their July 1, 1994 training camp smackdown is an all-time classic of the genre, with Switzer railing, "You guys manufacture everything!" and Hansen returning fire.
Along the way, Hansen also has received prestigious Peabody and duPont-Columbia awards for his contributions to a 1987 investigation of SMU football recruiting. And he's won numerous best sportscaster awards.
Hansen invariably is upfront with reporters who want to interview him. He answers questions directly rather than dodging them ineffectually. A jumbo-sized ego also is part of the Hansen package, but he's never claimed otherwise. Now he'll be good to go for another six years at a station that's found a way to exploit his considerable strengths and tolerate some of his storied excesses.
It's been a marriage made in heaven, hell and parts in between. But for far more good reasons than not, divorce has long been out of the question.