Last laugh? Leno to remain at NBC in new Monday-to-Friday prime-time variety hour
12/09/08 07:22 AM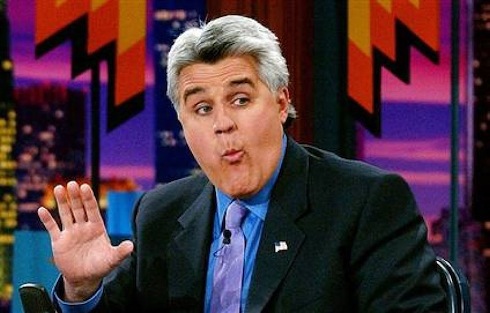 By ED BARK
NBC will keep Jay Leno after all -- with a new prime-time variety show that also will serve as a weeknight lead-in to 10 p.m. local newscasts.
The New York Times
and reporter Bill Carter, author of the acclaimed 1994 book
The Late Shift
,
broke the story
late Monday, with NBC expected to make it official on Tuesday.
Leno reportedly will be paid more than $30 million a year to host a Monday-Friday hour at 9 p.m. (central), with most of his
Tonight Show
trappings intact, including an opening monologue. It would premiere in the fall from the same Burbank studio in which Leno's
Tonight Show
currently is housed.
Conan O'Brien will replace Leno as
Tonight Show
host on June 1, 2009 as part of a succession plan announced nearly five years ago. He will relocate from New York to a new Hollywood studio, with Jimmy Fallon stepping in as host of O'Brien's
Late Night
program. Fallon taped his first in-training
"video blog"
for the show on Monday night.
Variety hours haven't been successful in prime-time since CBS'
The Carol Burnett Show
left the air in 1979. On the night before Thanksgiving, NBC tried and miserably failed -- in the ratings at least -- with a
Rosie Live
variety hour hosted by Rosie O'Donnell.
Leno obviously brings more to the table. But might he also suck the air out of O'Brien's
Tonight Show
, in terms of both topical humor and big-name guest stars? Be assured that Leno won't be welcoming plate-spinners on a nightly basis.
NBC has been fourth in the prime-time ratings for the past three seasons and seems certain to repeat that feat this season. The network has been bereft of hit 9 p.m. dramas in recent years, with its onetime bellwether,
ER
, scheduled to bow out with a March 12th series finale.
CBS currently is the only Big Four broadcast network with a potent 9 p.m. drama lineup, regularly winning at that hour with Monday's
CSI: Miami
, Wednesday's
CSI: NY
, Thursday's new
Eleventh Hour
crime drama and Friday's
Numb3rs
.
Leno had been wooed by rival networks, and seemed certain to leave NBC until the network retained him with an eleventh hour appeal. Meanwhile, O'Brien must be wondering what hit him. The biggest question on critics' minds next season now isn't about how he'll fare, but how Leno will do in an unprecedented venture with both high risks and a possibly big payoff.