Merry Christmas to all from unclebarky.com
12/24/14 10:38 AM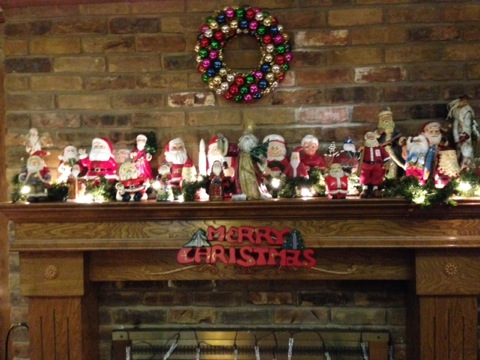 One of these Santas will come to life and make a stop tonight at unclebarky.com world headquarters. I'm banking on it. Photo: Ed Bark
The fireplace mantle again is jammed with Santas and Mrs. Clauses at unclebarky.com world headquarters. Homey, eh?
Merry Christmas to all on another Eve. And a special thanks to all who did their holiday season buying on amazon.com after first clicking on one of the ads on unclebarky.com. This so far has generated $147.34 in commissions this month. It doesn't sound like all that much, but I think it's an all-time record. And it's all because of you and you and you. And maybe you, too, someday.
Merry merry, happy happy. And we hope to see you again next week.
Ed Bark