Imus: the other shoe falls
04/12/07 04:11 PM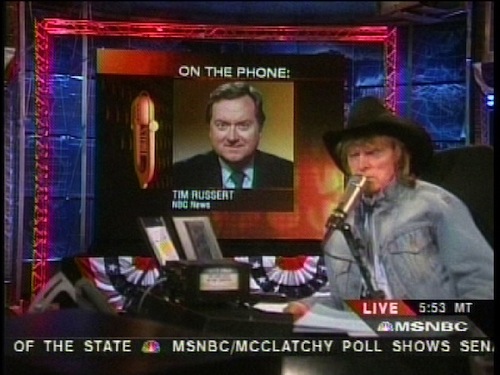 Don Imus and frequent guest Tim Russert: Goodbye to all that.
By ED BARK
Don Imus' radio career is history, at least for now.
CBS announced late Thursday afternoon that it will cease broadcasting
Imus in the Morning
, which it had distributed over the Westwood One radio network to 61 stations. The shutdown is effective immediately, "on a permanent basis," the network said.
CBS President and CEO Leslie Moonves said in part: "From the outset, I believe all of us have been deeply upset and revulsed by the statements that were made on our air about the young women who represented Rutgers University in the NCAA basketball championship with such class, energy and talent . . . In our meetings with concerned groups, there has been much discussion of the effect language like this has on our young people, particularly young women of color trying to make their way in this society.
"That consideration has weighed most heavily on our minds as we made our decision, as have the many emails, phone calls and personal discussions we have had with our colleagues across the CBS Corporation and our many other constituencies."
CBS again followed the lead of MSNBC, which on Wednesday announced it immediately would stop simulcasting Imus' early morning program. At the time, CBS still declined to go any further than a two-week suspension that was set to take effect on Monday, April 16th.
MSNBC also was the first to suspend Imus, with CBS shortly after announcing the same two-week penalty. The suspension now is moot.
On his April 4th program, Imus characterized the entire Rutgers team as "nappy-headed hos" on the morning after they had lost the women's national title game to Tennessee. He since has apologized several times, but also was combative in interviews with both the Rev. Al Sharpton and
Today
co-host Matt Lauer. Advertisers also began bailing out after Rutgers' coach and all 10 players made strong favorable impressions during a press session covered live on CNN, Fox News Channel and MSNBC.
Imus, 66, and CBS finally may have met their Waterloo via a Thursday morning
New York Times
Op-Ed piece
in which the author, Bob Herbert, reacquainted readers with a damning July 1998
60 Minutes
profile by Mike Wallace.
In the piece, Imus at first denied and then admitted telling a producer that "Bernard McGuirk (an accomplice in the Rutgers slurs) is there to do nigger jokes."
The producer, Tom Anderson, was sitting right next to Wallace and Imus, who asked him, "Did I use that word?"
"I recall you using that word," Anderson said, prompting Imus to sputter, "Oh, OK. Well, then I used that word. But I mean -- of course, that was an off-the-record conversation. But . . ."
"The hell it was," Wallace retorted.
As written several days earlier in this space, Imus this time had earned the right to be fired if he didn't have the good grace to resign. Sometimes examples must be made, particularly when the targets of Imus' so-called humor were young, impressionable African-American women who had defied all odds in even reaching the women's Final Four.
But instead of bright, sunny days back on campus, they were buffeted by the ill winds of a blowhard who clearly thought he was untouchable. Now the old crank can go count his money while CBS again claims to have learned another hard lesson.
"We are now presented with a significant opportunity to expand on our record on issues of diversity, race and gender," Moonves said at the close of Thursday's official statement. "We intend to seize that opportunity as we move forward together."
Sadly, that plays like yet another network rerun.