It's alive!!! Unique hands-on screenshop co-founded by son is now in business in Austin
08/24/09 01:03 PM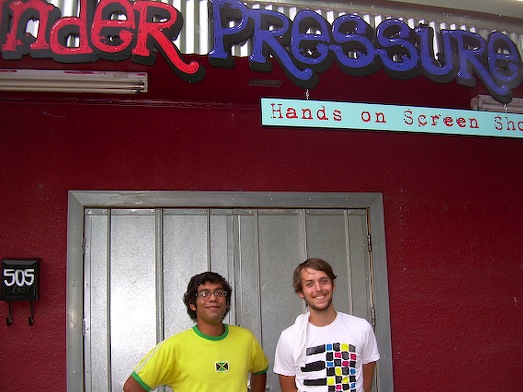 Co-founders Michael Fuchs (left) and Sam Ladach-Bark invite you to enjoy the vibe and creations at their brand new Under Pressure screen printing store in Austin. Be sure to tell a friend. Photo: Ed Bark
By ED BARK
OK, this is just dad talking. But it's truly amazing what my son, Sam Ladach-Bark, and his business partner, Michael Fuchs, have accomplished in "Keep It Weird" Austin.
Saturday night marked the opening of their new business, the Under Pressure hands-on screen shop at 505 W. Mary St. (just off First Street) in Austin 78704. The website is
handsonscreenshop.com
, and I hope you'll take a look at it and see what they're all about. Here's another page from the site that
shows off their designs
.
Customers also can bring in their own designs, for which Sam and Michael will create screens on the spot and then print whatever you want in a wide variety of inks and shirt colors. And the shirts they stock in their store are printed on "100 percent sweatshop free cotton."
This is quite an undertaking for two imaginative guys in their mid-20s. But you have to make your own breaks in today's economy, so they're giving it their all in hopes of making this a lasting business both online, in their store and on the road at various festivals and fairs.
Here's hoping that Under Pressure has a very bright future, which you can brighten by making a purchase or spreading the word. You'll be glad you did.