Exceptional, riveting, revealing, tragic
07/11/08 10:43 AM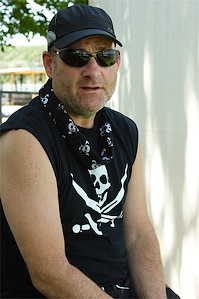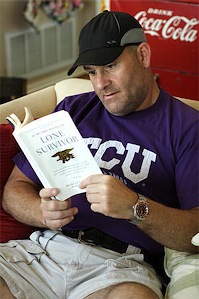 A post-"Ticket" Greg Williams. Dallas Observer photos
Meant to get to this earlier, but that pesky Tracy Rowlett/Shale.TV story kept getting in the way.
Anyway,
Dallas Observer
writer Richie Whitt's cover story on deposed "Ticket" radio personality Greg "The Hammer" Williams is brilliantly composed and researched. It may well be the best media piece ever written in this market. A masterpiece from the superb open to the symmetrical close.
Get yourself a hard copy of
The Observer
if they're still to be found. Or read Whitt's work online
here
. But by all means, take a look.
Also in
Observer
-land, the always entertaining Robert Wilonsky got Rowlett to say
"vajayjay,"
and I didn't during my earlier phone interview with him. My weak defense is that I was rushed for time Thursday morning due to a personal matter that didn't involve my privates.
Unclebarky.com did, however, fill in the blanks on that particular story during an earlier dispatch. Rowlett was referring to a ratings "sweeps" piece by his own station, which he's leaving after the Friday, July 11th 5 p.m. newscast. And the "vajayjay" rejuvenation story focused on the intrepid doctor wife of WFAA8 anchor Jeff Brady.
Enjoy
if you'd like, but you'll have to scroll down a bit after clicking.
Ed Bark