On Wisconsin -- off Florida State (updated)
03/20/09 01:54 PM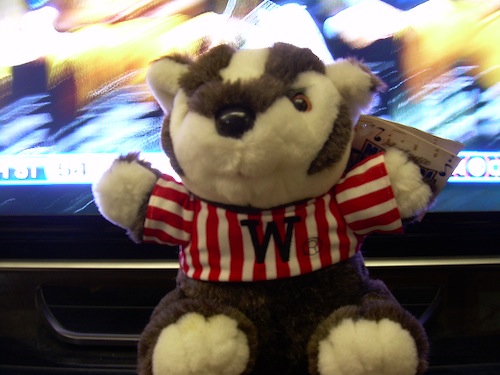 Bucky's ready to slow the game to a crawl tonight. Photo: Ed Bark
Uncle Barky's alma mater, the University of Wisconsin-Madison, will take on the heavily favored Florida State Seminoles in one of the NCAA basketball tournament's late games Friday.
Few give the Badgers much of a chance, and yes I've heard most of the jokes and have a few myself.
Wisconsin looks and plays like a set-shooting '50s team.
Their games should be televised in black-and-white.
The team rallying cry is a yawn.
They're more deliberate than
Dag Hammarskjold.
They make Perry Como look like Billy Idol.
One of their star players is hulking Joe Krabbenhoft, whose name sounds like a specialty sauerkraut dish.
And so on.
The Badgers will enter tonight's game as a lowly No. 12 seed after losing their opening game in the Big Ten Tournament. Florida State is a No. 5 seed after making it to the title game in the rough-tough ACC tournament.
But look for Wisconsin to put a
Verne Gagne
sleeper hold on the otherwise up-tempo Seminoles. And after the paint has dried and the snores have set in, the Badgers will pull off a 10-9 win in always pulsating Boise.
OK, it's likely to be a bit higher-scoring than that. And Wisconsin should have a strong fan base in Dallas after bequeathing the Mavs both Michael Finley and Devin Harris. It's not the great state of Wisconsin's fault that owner Mark Cuban later coughed both of them up.
So let's get behind a bratwurst-powered team with nothing to lose under the steady leadership of former University of Wisconsin-Platteville coach Bo Ryan. For him, a fast break is a dirty word. But he does do a mean hambone. Check it out and say cheese:
Ed Bark
Postscript:
Well, the Badgers beat Florida State by two points in overtime, but then wilted in the second half against Xavier to bow out of the NCAA tournament Sunday afternoon. Wait'll next year, when Wisconsin returns with more slo-mo, rim-clanging hardwood action.