The Gordon Keith Show hijacks a half-hour of prime-time
06/02/08 05:21 PM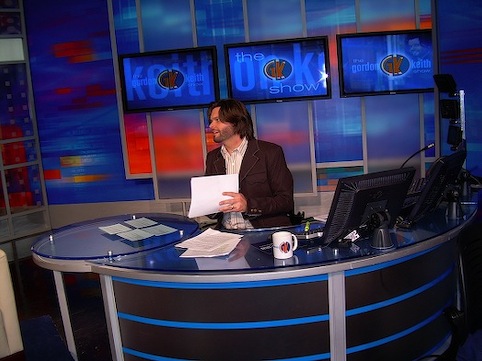 Gordo composes his thoughts, comes up empty. Photo: Ed Bark
Inaugural Uncle Barky Show guest Gordon Keith gets his first prime-time TV outing Tuesday (June 3rd) with high wattage guests Adam Sandler and Mark Cuban.
Show time is 7 p.m. on WFAA8, and the multi-talented "Ticket" personality will face competition from NBC's
Most Outrageous Moments
, CBS'
NCIS
repeat and Fox's
The Moment of Truth
.
Place your bets on
The Gordon Keith Show
to perhaps beat
Most Outrageous Moments
. Meanwhile, don't be misled by
The Dallas Morning News
' "TV Week" programming grid, which says Keith's show will run for an hour. No, it's just half that long, and is oddly described by the
DMN
as simply "A youthful look."
Unclebarky.com prefers this shorthand: "A bizarre descent into dementia, with the sick-in-the-head host stripping his guests of any undue dignity while a rabid studio audience boos him on between slugs of Boone's Farm Strawberry Hill."
So go get 'em, Gordon. Meanwhile, thrill to this conveniently located
pegasusnews.com
clip (below) from the Dec. 1st Uncle Barky Show at Stratos restaurant. Gordo discusses the art of the impression while also throwing out sendups of Jerry Jones, Tiger Woods, his "one-foot-in-the grave" Aunt Gertrude and a "whistle-talking" high school principal.
Ed Bark
Online Videos by Veoh.com