Mistress of the Dark calls it a night
05/25/07 12:10 PM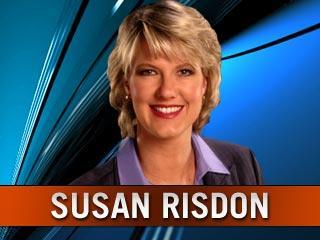 By ED BARK
Veteran NBC5 reporter Susan Risdon, a fixture on the station's 10 p.m. newscasts, will be charting a new course after June 29th.
She'll be leaving the station after seven years to start her own media/marketing firm, Red Media Group.
"I wanted to let you know that the Mistress of the Dark is signing off," Risdon said in an email Friday to unclebarky.com. That's been her nickname in this space, and she apparently grew to like it.
Risdon, whose contract with NBC5 expires at the end of June, invariably reports from scenes of crime or tragedy as one of the station's most prominent 10 p.m. correspondents.
Her
last story
for the May "sweeps" ratings period, which ended Wednesday, detailed a law enforcement search for a "muscular man in a phony police uniform" who had been stopping motorists. She's seldom if ever seen under a roof or in the light. Her beat is the forbidding nighttime streets, which she shares with 10 p.m. colleagues Scott Gordon and Scott Friedman.
"Telling the stories of crime victims and connecting with law enforcement officers in our communities is a difficult but important job," Risdon said. "It does take a toll on you emotionally, but I respect my co-workers and the management of NBC5 and all of the opportunities they've given me."
Risdon has spent 15-and-a-half years in TV news, joining NBC5 in June 2000 from an Austin station. Her first TV job was in Paducah, KY.
"It's been a great ride," she said. "I'm a night owl, so I enjoy the evening hours. Now I'll actually have to set an alarm clock."
Her tenure at NBC5 has helped prepare her to "tell positive stories about a variety of business clients I plan to represent," Risdon said.
One of her more memorable sweeps stories was a May 15th dispatch about a "scary-looking creature" that sent kids running from a North Dallas McDonald's playground.
"The mystery creature escaped back through the fence," Risdon climactically told viewers. "The manager tells me it had a long nose and was not a rat."
She can laugh about it now.
"By the way, I think it was a possum wreaking havoc," she said Friday.