Another prime-time washout
04/24/07 11:15 PM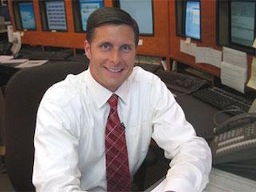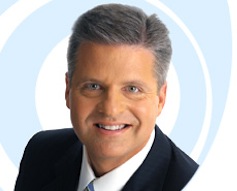 Weathering storm coverage: Fox4's Dan Henry, Belo8's Pete Delkus.
By ED BARK
D-FW stations yielded to another night of heavy-duty storm coverage Tuesday, throwing off network entertainment schedules for the third time this month.
This time the pre-emptions kicked in at 8:50 p.m., with Belo8 weathercaster Pete Delkus again caught in the pincers of a live
Dancing with the Stars
results show.
"Folks, you're gonna have to forgive me," he said, apologizing for having to cut off ABC's most popular show in deference to a tornado warning in the White Settlement area and serious storms and flooding elsewhere.
Delkus had been put in the same position on April 3, but got back to
Dancing
just in time for the eviction of contestant Shandi Finnessey. This time he apologized all the more as the show neared its end.
"I know if you live in Dallas County or any of the other counties, you're probably upset right now," Delkus said in that sometimes painfully earnest way he has of commiserating with me and you and a boy named Sue.
The station finally settled for a small
Dancing
insert in the upper left-hand corner of home screens, where viewers saw but couldn't hear Heather Mills getting the news that she'd been voted off the show. She had made it through five weeks on one leg.
Meanwhile, Fox4 paced the prime-time portion of non-stop news coverage. Underrated weatherman Dan Henry, assisted by veteran Ron Jackson, brought viewers the latest on the storm's direction while Shaun Rabb, Fil Alvarado, Jeff Crilley and Brandon Todd reported from the not-so-great outdoors. Fox4 easily had the most vivid live and videotaped pictures at crunch time. The station was both in its element and in the elements.
In contrast, NBC5 mostly fixated on veteran weatherman David Finfrock and his maps. Its reporters basically went unseen until the 10 p.m. newscast kicked in.
CBS11 managed to get reporter Bud Gillett in front of a live camera and Belo8 had live field reports from both Darla Miles and Gary Reaves. Still, the three stations all were outdone by Fox4 during the height of storm activity from 8:50 to 10 p.m.
It's also becoming apparent that CBS11 weathercaster Kristine Kahanek lacks the presence needed during a pell-mell breaking story. She tries hard but doesn't break through. Too often she seems discombobulated. Knowing your stuff is one thing. Effectively communicating it is quite another.
Delkus can be aggravatingly preachy at times, but he sure fills the screen. He's like a too talkative airline pilot with the saving grace of having a perfect safety record. "Delkus delivers" is the station's promotional slogan. Sometimes he uses too big a shovel.
Finfrock and Henry are comparatively laid back. You trust them not to oversell the weather, or to under-report it.
By 10:30 p.m. Tuesday, just about everything had blown over. All four stations called time outs for commercials in their 10 p.m. newscasts before resuming regular entertainment programming.
Belo8 promised to show ABC's
Boston Legal
at 3:10 a.m. Wednesday. The night's other prime-time casualties, either partially or fully obliterated, were Fox's
House
, CBS'
The Unit
and
Cold Case
, and NBC's
Law & Order: Criminal Intent
and
Law & Order: Special Victims Unit
.