WFAA/ABC News anchor Murphy Martin: July 4, 1925 to July 3, 2008
07/04/08 12:10 PM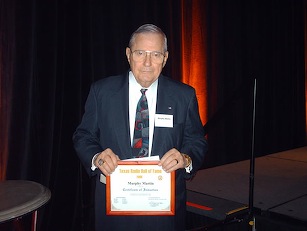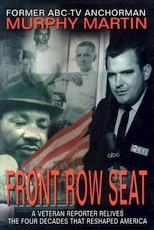 Murphy Martin at 2006 Texas Radio Hall of Fame induction and as a network and local TV anchor who had three stints at WFAA-TV.
By ED BARK
Television-radio news stalwart Murphy Martin, also known to many as the longtime stadium voice of the Dallas Cowboys, died late Thursday night just shy of what would have been his 83rd birthday.
Martin was one of the earliest news anchors at WFAA-TV (Channel 8), joining the station in 1961 and leaving in February 1963 to become ABC News' first latenight news anchor. He also was the signature voice of ABC News radio and did extensive reporting from Dallas after the assassination of President John F. Kennedy. Martin also anchored at the network's flagship station in New York, WABC-TV, where his sports guy was an up-and-coming Howard Cosell.
Martin returned to WFAA in 1968, teaming with Bob Gooding until 1970 before taking a leave of absence to help Ross Perot in his efforts to free U.S. prisoners of war still being held in Vietnam. He rejoined WFAA in 1972 and remained with the station for another three years.
John Sparks, who produced Martin's newscasts during his last stint at WFAA, described him Friday as a "consummate professional, dedicated to accuracy in his profession, and a loyal and trusted friend."
Martin formed his own television consulting business in 1975 and also became the stadium voice for the Dallas Cowboys, a post he held for 24 years. He rejoined Perot in 1992 during the Dallas billionaire's run for the presidency. In November 2006, he was inducted into the
Texas Radio Hall of Fame
.
Martin made a big impression on the late Peter Jennings during his formative years at ABC News. On a Sept. 14, 2000 edition of CNN's
Larry King Live
, Martin phoned in while the host was interviewing Jennings about his latest prime-time news special.
Jennings immediately recognized the voice, and told King, "I remember coming to ABC when I was very young, and Murphy Martin had a
voice
that practically ran you off the block."
Martin got his start in TV news as the first anchor at KTRE-TV in his native Lufkin, TX when the station inaugurated local newscasts in 1955. His 2003 book,
Front Row Seat
, recaptured a 40-year broadcast news career. He continued to write opinion pieces on his own
Web site
through late last year.