Absolutely, positively final national Nielsens bump Supie XLIII from II to I on all-time list (updated)
02/02/09 04:05 PM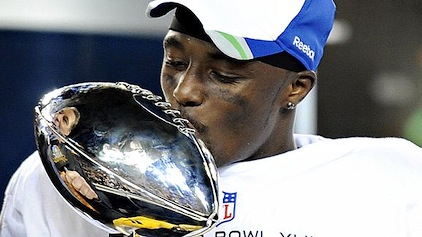 Super Bowl's Superman: MVP Santonio Holmes strikes a pose.
By ED BARK
"Unusual and unexpected adjustments" Tuesday to Super Bowl XLIII's national Nielsen numbers have vaulted it to No. 1 on the all-time list, NBC has announced.
The Peacock's first telecast of a Super Bowl since 1998's XXXII averaged 98.7 million viewers, not the 95.4 million tabulated on Monday. That's the biggest audience in the game's 43-year history, surpassing last year's recording-setting 97.5 million viewers for the New York Giants' upset of the unbeaten New England Patriots.
NBC also had a thriller in view, with the Pittsburgh Steelers scoring their come-from-behind winning touchdown against the Arizona Cardinals with just 35 second left in the game.
NBC sports chairman Dick Ebersol equated the Super Bowl to a humanitarian gesture.
"The National Football League should feel a great sense of pride in providing a day of enjoyment to American families -- especially those who are struggling in these difficult times," he said in a press release.
NBC also clicked its heels to the tune of a record $206 million in advertising revenue, with each in-game 30-second spot costing $3 million, according to the network.
"Commercials are nearly as big a part of the day as the football itself," NBC Universal president and CEO Jeff Zucker said. "This is an extraordinary story for NBC against the backdrop of this economy."
NBC's post-Super Bowl attraction, a one-hour episode of
The Office
, drew 22.9 million viewers nationally from 9:40 to 10:40 p.m. Last year's followup act, Fox's
House
, did appreciably better with 29 million viewers, according to Nielsen Media Research.
The all-time record-holder, which may never be beaten, is NBC's 1996 episode of
Friends
, which amassed 52.9 million viewers after 94.1 million viewers watched the Dallas Cowboys beat the Steelers.