It's just not in the cards
04/19/08 09:30 PM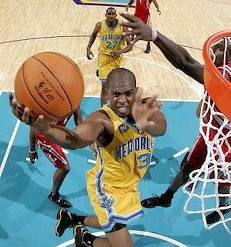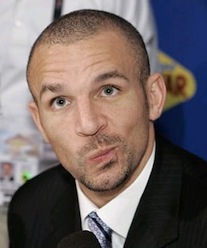 Young man, vs. old man: Which is why the Mavs will lose.
By ED BARK
Damn, that was painful. A 12-point Dallas Mavericks lead at halftime evaporates into a 12-point loss at end-game Saturday night.
Experience? Don't be silly. The Dallas Mavericks unfortunately have turned into a senior bowling league, with no legs in the second half. Jason Kidd, Jason Terry, Jerry Stackhouse, Erick Dampier, Devean George, Eddie Jones, Tyronn Lue, Juwan Howard -- all are over 30. And Dirk's pushin' it. He'll hit the three-decade mark on June 19th.
Kidd may
want
to "impose his will" at crunch time. But he's like Muhammad Ali in his last fight against Trevor Berbick. He can see the openings, but the flesh ain't willing anymore. Meanwhile, the new kid on the block, Chris Paul, torches Kidd and the Mavs in the second half. Sad.
By the way, TXA21 truth-tellers Gina Miller and former Mav Derek Harper continue to do a great job on the post-game show. Unlike the game announcers, they don't drink the Kool-Aid.
And one more thing. How many of you watched the meltdown on ESPN instead of TXA21 for the simple reason that the all-sports cable network had it in HD and the locals did not? Makes a helluva difference in this view. End of mini-rant. Arrrgh!