NBC5's Castillo leaving a bit later than planned (updated)
07/24/08 08:32 AM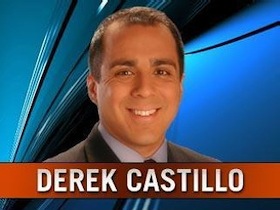 By ED BARK
After re-upping for an extra month, NBC5 sports reporter/anchor Derek Castillo will say goodbye to D-FW viewers on this Sunday's 10:30 p.m.
Sports Extra
.
Otherwise his official last day at the station will be Aug. 1st, and "I will continue anchoring" until that time, Castillo said in an email.
As previously reported on unclebarky.com,
Castillo had planned to leave NBC5
at the end of June. But he subsequently decided to extend his contract for an additional month.
"I just couldn't do another contract working weekends," he said in an interview last April. "I owe it to my wife and (eight-year-old) son now to be there more for them. Having a child really changes things."
Castillo joined NBC5 in July 2001 from Philadelphia's WCAU-TV. His live "Big Game Friday Night" reports from various high school football stadiums became one of the station's most popular sports features.
NBC5 has named Matt Barrie from Columbia, S.C.'s WLTX-TV as Castillo's replacement. He joined featured sports anchor Newy Scruggs Thursday night in Oxnard, CA as the Dallas Cowboy arrived for training camp.
Castillo came to NBC5 after John Rhadigan left to join Fox Sports Southwest, where he's become a mainstay. A berth at FSS, should a position open, would seem to be perfect fit for Castillo as well.