T.O./supermodel K.O.'d in first episode of ABC's The Superstars (Both cop 'tudes)
06/23/09 08:40 PM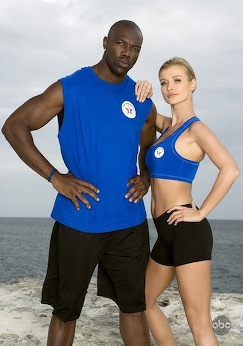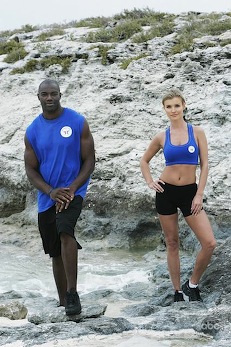 Before the fall: T.O. and supermodel Joanna Krupa. ABC photos
By ED BARK
An embarrassingly inept Terrell Owens met his petulant, defiant match Tuesday night in supermodel Joanna Krupa.
"I don't want a teammate like that. Calls himself an athlete?" she said within hearing distance of the former Cowboys problem child after he had screwed up an obstacle course run. Earlier in the show, a cocksure Owens repeatedly capsized a kayak.
T.O. and T&A therefore were the first athlete/celebrity team eliminated in the 90-minute premiere of ABC's
The Superstars
. They ended up trading insults while walking away from the competition. A match made in heaven/hell. But oh the ignominy. The entire NFL must be greatly amused. Count on Tony Romo to be laughing 'til he pukes.
T.O., who will inflict the Buffalo Bills in the upcoming season, for the most part looked like Bill Parcells trying to master the hula hoop. Krupa rightly blamed him for messing up a "sudden death" team kayak race in which he spent most of the time knocking the two of them into the drink. A miffed T.O. then refused to answer questions from one of the show's hosts, fetching Jenn Brown.
The kayak catastrophe put T.O. and Joanna among the bottom four teams, forcing them to compete in a do-or-die obstacle course race in which one pair would be sent home.
Owens responded like the champ he is by becoming entangled in a net while actor David Charvet (
Baywatch
) beat him to the finish line by an eternity or more.
Krupa cursed from afar because she couldn't begin the course until T.O. finished it. At last he finally did. But it was way too late for her.
"You're the one who (bleeped) up," she then told him. "We could have won. You shut up."
Which amazingly, he did. Too bad none of his former Cowboys teammates ever had the temerity to turn that trick in public.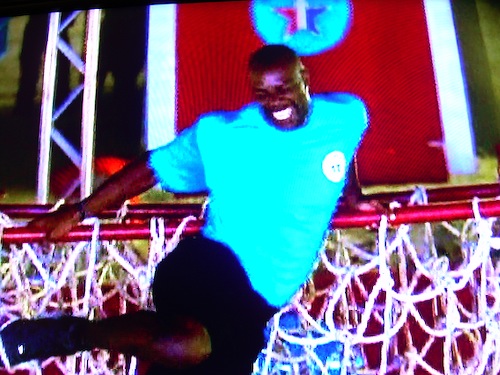 T.O. in distress before suffering net loss Tuesday night. Photo: Ed Bark
In fairness, the net ensnared a couple of other competitors, too, including former WNBA star Lisa Leslie. But none had been remotely as cocky as Owens, and all eventually prevailed over him.
T.O. fared a little better in the climactic win-or-go-home heat, nipping actor Dan Cortese by a second or so. But Cortese is 41 while Owens still claims to be in the prime of his NFL career.
Krupa then came up short of Leslie, which punched her ticket to Palooka-ville along with whatsisname.
"I screwed it up in the first race," Owens said in his only magnanimous comment of the night. "It is what it is. We had good fun."
His ad hoc teammate wasn't having any of it, refusing to accept T.O.'s embrace or handshake. Instead they walked off more or less together, with Krupa upbraiding Owens as if he were a member of the Detroit Lions taxi squad.
"So cocky." She said. "For what? You got in the NFL?"
"I really feel bad for your boyfriend," T.O. retorted. "I really feel bad for him."
So there you have it. Have two teammates ever deserved each other more? Still, the jury is still out. Did spunky, salty Joanna Krupa make T.O. her bitch? Or did she just act like one, allowing him to escape with perhaps a bare shred of semi-dignity Tuesday night?
Whatever your call, he definitely met his match. And as even T.O. might have deduced by now, it's no fun being on the receiving end.