Jumping off the Golden Gate Bridge
05/04/07 01:06 AM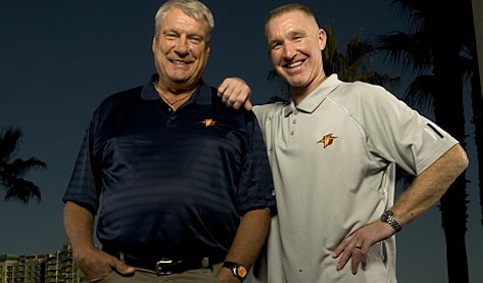 Happy together: Don Nelson and Golden State Warriors GM Chris Mullin stick it to the old ball coach's former employer.
By ED BARK
Teammate Maurice Ager outscored Dirk Nowitzki in Thursday night's do-or-die playoff game against the Golden State Warriors.
Maybe no further commentary is necessary. The likely regular season MVP went from saviour to slug, joining his fellow Dallas Mavericks in a second-half slasher movie that owner Mark Cuban privately will find impossible to stomach. Losing to Don Nelson, whom he'd basically branded a loser before Game 5, is going to haunt Cuban for a long time. Don't believe anything he says to the contrary.
Nowitzki at least will always be Nellie's fair-haired wunderkind, even if he played like a bratwurst in a game where virtually everyone expected him to shine.
"You have to believe you're not going to see that in consecutive halves," Mavs analyst Bob Ortegel said on TXA21 after Nowitzki contributed all of four points in a nonetheless closely contested first half.
But Nowitzki had a mirror-image second half, contributing four more points to finish with -- what's this? -- eight. Ager had 10 in what ended as a 111 to 86 Warrior romp. Did anyone
ever
expect to see anything like that?
Over on TNT, analyst Charles Barkley had a different halftime take.
"Dirk Nowitzki, I don't know what the hell he's doin', man," said "Sir Charles," who had predicted the Mavs would beat Golden State four games in a row after losing the opener.
Barkley even wore a green No. 41 Nowitzki jersey during the TNT studio show for Game 4. By the end of Game 6 he'd donned a yellow "We Believe" Warrior T-shirt.
"Dallas packed it in," Barkley said. "They didn't compete down the stretch." For once he was right.
Ortegel of course wore his rose-colored glasses almost to the very end. With around three minutes left and Dallas down by more than 20, he finally allowed himself to say that the Mavs just weren't going to make it this time. "It's very disappointing. There's nothing else to say."
Instead, truth-telling post-game co-host Derek Harper again said it for him.
"You hold these guys accountable, man," the former Maverick emphasized. And that includes coach Avery Johnson, who seemed to be at sea in the second half as Nelson flummoxed him with a zone defense.
"Avery will be under the gun as well," Harper said.
Johnson, to his great credit, praised both the Warriors and Nelson in his post-game press conference.
"You have to take your hat off to Nellie," he said.
Cuban won't be able to summon that kind of class, at least when it comes to Nelson. The old ball coach pretty much held his tongue in check throughout the series, but did allow himself one slap at his old boss during a courtside interview that CBS11 excerpted on Wednesday's 10 p.m. newscast.
"You guys know Mark Cuban," he said. "He tries to crush everything in his path. And I'd really rather not get involved in discussing those situations."
Cuban's now in his rear view mirror as Nelson prepares to move on in the playoffs while the Mavericks wonder what hit them.
The only people in Dallas even remotely happy about any of this might be the management at Fox4, NBC5, Belo8 and CBS11. They're in the heart of a May "sweeps" ratings competition, and Mavs playoff games were siphoning away potential audiences for their 10 p.m. newscasts. Now they can dream bigger again while the team that seemingly couldn't be beat endures what's going to be a hideously long off-season.
Lest we forget, Maurice Ager outscored Dirk Nowitzki. And that's ballgame.