Breaking down a Bill O'Reilly broadside
08/23/07 12:01 PM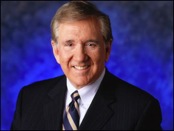 Bill O'Reilly, Gail Heitz, Tracy Rowlett and the late Marty Haag
By ED BARK
Bill O'Reilly lobbed another grenade earlier this week on his prime-time Fox News Channel show. This time it landed in Dallas. Now we're picking up the pieces.
This much is certain. The reigning most popular personality on Fox News Channel did not have a pleasant stay at WFAA-TV (Channel 8) in Dallas, where he worked briefly in the late 1970s.
At one point he had a physical tussle with anchor Tracy Rowlett. That's how bad it got before O'Reilly left Dallas and WFAA to chart what turned out to be several new courses. He eventually joined FNC at its inception in October 1996. Since then he's become both a household name and the author of several bestselling books.
Viewers of Monday's
The O'Reilly Factor
got another taste of O'Reilly's longtime distaste for WFAA during the host's interview with Lauren Jones. She's the model and former wrestling villain who's now starring in the Fox broadcasting network's
Anchorwoman
reality series. Jones had no previous training in TV news, but KYTX-TV in Tyler, Texas agreed to hire her as an anchor for the purposes of the show.
"This happened in real life in (at) a station I worked with in Dallas. And It did. Exactly," O'Reilly told her. "It was 30 years ago and some idiot in (at) a station I worked with brought in somebody that didn't have any experience. And then all of us jaded news people were looking, going, 'Who's this woman?' "
"You ran into the same thing, right?" he then asked Jones.
She in turn asked O'Reilly, "Well, how did it end up for you?"
"She got fired because the audience knew she was an airhead, and didn't know anything and the ratings were down and she got axed," he replied.
Inquiring readers since have wondered about the identities of both the "airhead" and the "idiot."
The latter is easy, but he sure wasn't an idiot. Marty Haag, WFAA's news director at the time, went on to win a George Foster Peabody Award for his career achievements at WFAA. Firmly in charge of all newsroom hirings, he was widely viewed as one of the foremost local news directors of his generation. He hired Rowlett in the mid-1970s and eventually paired him with Iola Johnson as WFAA's featured 6 and 10 p.m. anchor team. They soon began dominating the D-FW news ratings.
Rowlett, now anchoring at CBS 11 and planning to retire next summer, still thinks very little of O'Reilly and even less of his characterization of Haag, who died in January 2004. He said that O'Reilly and Haag eventually had a heated falling out.
"O'Reilly was not liked in the newsroom and had an uncontrollable ego," Rowlett told unclebarky.com. "He was a poor reporter on his best day and I learned not to believe anything he said unless I could prove it independently."
The unnamed "airhead" to whom O'Reilly referred is harder to pin down. Both Rowlett and another longtime former WFAA staffer who asked not to be identified, say it almost certainly is Gail Heitz. Hired by Haag, she briefly co-anchored WFAA's 5 p.m. newscasts in the late 1970s before moving to WPIX-TV in New York City, where her husband had a business. She soon got out of TV news and has been a psycho-therapist since 1987 after taking three years of post-masters courses at NYU.
Now based in Westport, Conn., Heitz said in a telephone interview that she "never met" O'Reilly while at WFAA.
Before joining the station, "I had a substantial background in news," she said. "I started in print. I paid my dues at small stations."
"He (O'Reilly) is the airhead to make comments like that," Heitz said, terming him an "anger-monger."
O'Reilly started this ball rolling, and now at least other sides have been heard. Fair and balanced it's called.