Shock therapy (updated)
08/29/08 09:49 AM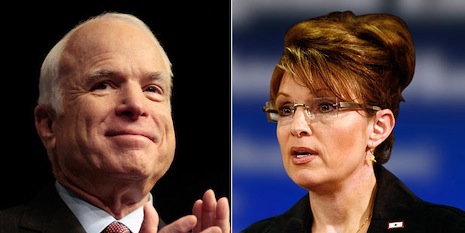 By ED BARK
The afterglow had barely settled on Barack Obama's Thursday night spectacular from Invesco Field when presumed Republican nominee John McCain dropped a big bombshell Friday morning.
McCain's out-of-nowhere pick of 44-year-old Alaska governor Sarah Palin as his running mate ranked as the best-kept political secret of modern times until NBC's Kelly O'Donnell was credited with breaking the story seconds or minutes before rival networks chimed in.
CBS News lagged behind all of its broadcast and cable news rivals, being by far the last to officially post the news on its web site. On CBS11 in D-FW, the
Rachael Ray
show went uninterrupted while NBC5 and WFAA8 brought the news on Palin and CNN, Fox News Channel and MSNBC jumped all over it. (CBS did, however, tout an earlier
blog item
in which Palin's parents said they were told to listen to the radio Friday morning for "exciting news.")
"She is out of the box to say the least," ABC anchor Charles Gibson said in a news bulletin.
"This is a big, bold choice," added analyst and
This Week
moderator George Stephanopoulos.
"Of course there's a risk. And I think John McCain assessed that risk," Texas Sen. Kay Bailey Hutchison said on MSNBC.
President Bush's former maestro, Karl Rove, termed Palin "a gun-totin', hockey-playin' woman."
"I think this is brilliant," he said on Fox News Channel.