Snee now will be heard, not seen (updated)
07/31/08 10:09 AM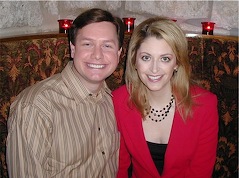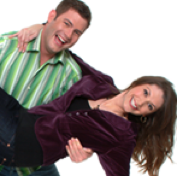 Victoria Snee with her husband, former Fox4 reporter Jeff Crilley, and with Mix 102.9 morning radio partner Tony Zazza.
By ED BARK
Victoria Snee, longtime entertainment/lifestyles reporter at KDAF-TV (Channel 33), resigned Wednesday to devote her full energies to an ongoing morning radio show at
KDMX radio (Mix 102.9 FM)
.
"It's been tough juggling two jobs," Snee said in a telephone interview Thursday. Since February, 2007, she's been co-host of KDMX's
The Morning Mix with Tony Zazza.
Snee said her decision to leave Ch. 33 after nine and a half years was hastened by new news director David Duitch's concern that she couldn't handle both positions.
"He wanted a more full-time commitment to his news operation, and he didn't feel like I was going to be able to do that working two jobs," she said. "So he basically asked me to choose, and that's what I did."
"I think that's correct," said Duitch, a former WFAA8 news director who officially joined Ch. 33 just four days ago.
Snee said she left Ch. 33 on "very amicable terms with (veteran general manager) Joe Young. He's been great to me and great to work for. He gave me a big hug."
Her husband, Jeff Crilley, recently left a full-time reporting job at Fox4 to start up
Real News PR
, which he describes as a "new breed" of public relations firm.
Ch. 33, home of The CW network, also is undergoing changes. The nightly 9 p.m. local newscast lately has dropped "CW" from its title and now is called "KDAF 33 News."
The station also is developing a morning news program that tentatively will be launched sometime next year unless plans fizzle.
Chicago billionaire Sam Zell, new owner of Tribune's television stations, including Ch. 33, has said that The CW's target audience of 12-to-34-year-olds is not a good fit for stations making heavier investments in local news. Younger viewers generally are averse to watching TV news of any sort, unless it's the sendups on
The Daily Show
or
The Colbert Report
.