Advancing the story: CBS11 lands exclusive interview with Moats case cop
03/30/09 05:14 PM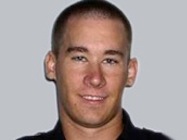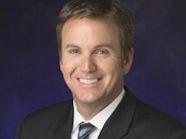 DPD officer Robert Powell and CBS11 reporter J.D. Miles
By ED BARK
CBS11 plans to play catch up in a big way Monday with its own exclusive in the Ryan and Tamishia Moats case.
The station announced early Monday evening that
reporter J.D. Miles
will interview Dallas police officer Robert Powell on tonight's 10 p.m. newscast.
Powell is on administrative leave after his controversial conduct outside Baylor Regional Medical Center of Plano, where he issued a traffic ticket to Ryan Moats and detained him at length while his hospitalized mother-in-law died.
WFAA8 reporter
Rebecca Lopez broke the story
last Wednesday and is still in New York after interviewing the Moatses Monday in concert with ABC's
Good Morning America
. Portions of her interview aired on WFAA8's 5 p.m. newscast, with more to come on Monday's 6 and 10 p.m. reports.