The Uncle Barky Webcast premieres on a computer near you
07/25/08 08:39 AM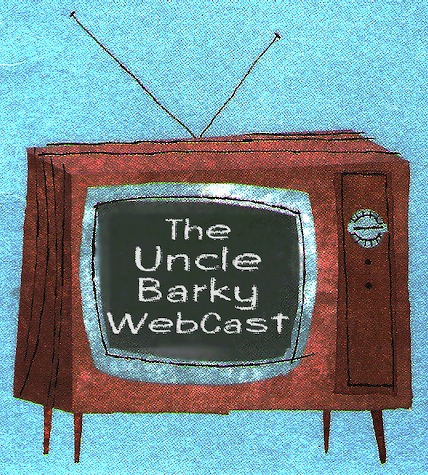 Presenting the inaugural
"Uncle Barky Webcast,
" featuring your friendly content provider and guests in a variety of video vignettes and settings.
This new venture is in partnership with D-FW radio legend John Rody of KZEW-FM "Morning Zoo" fame. In recent years, the Texas radio Hall of Famer has been running his own Irving-based
Webcasting Networks. com
.
The first Uncle Barky effort takes us to the Colleyville kitchen of former NBC5 meteorologist
Rebecca Miller
, whose whereabouts and future plans have generated more emails and comments on unclebarky.com than any other North Texas media personality.
While waiting for her non-compete clause to expire in early September, she's been busily baking gourmet cakes and organic dog cookies. This first Uncle Barky Webcast runs a little more than 15 minutes, roughly twice as long as typical future webisodes. Miller introduces viewers to her two dogs, talks about her future plans and then assembles an impressive German chocolate cake while your host tries to gamely play along.
We've already recorded four future Uncle Barky Webcasts, and plan to roll them out once a week. They're all completely unscripted, and your go-to address for all current and past episodes is
webcastingnetworks.com/unclebarky
.
So we'll see how this all goes. If you like them, please spread the word. I'm no Johnny Carson, but hope to at least rise to the level of Bert Convy.
Ed Bark