Back in play after a brief sojurn
04/27/10 11:50 AM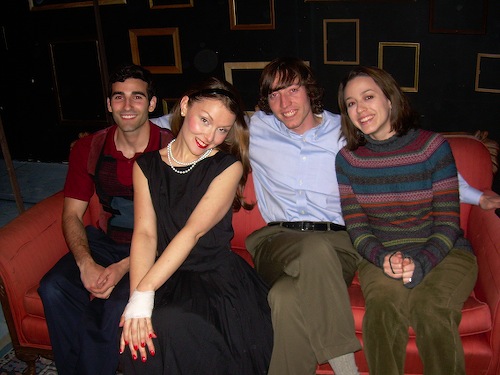 Daughter Liz, in black, with fellow cast members from The House of Yes. And yes, the bandage is all part of her part. Photo: Dad
We're back in business here at unclebarky.com after your friendly content provider's whirlwind trip to Chicago to see daughter Liz in
The House of Yes
. It's still
running through this weekend at Artistic Home
in case you're in the vicinity.
This is quite a grown-up part, to say the least. But daddy's little girl in real life is a genuine sweetie, of which I kept reminding myself while she . . .
Anyway, we've caught up with
the weekend
and
Monday's
D-FW Nielsen ratings. There's also
news about one of CW33's newcasts
, which is being canceled.
Ed Bark