Moats and wife opt for more visible morning venue (updated)
03/29/09 11:39 AM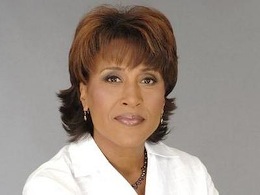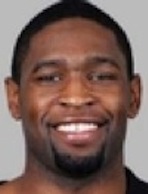 GMA's Robin Roberts and Houston Texans running back Ryan Moats
By ED BARK
Pro football running back Ryan Moats and his wife Tamishia (also spelled Tamisha in some accounts) have changed morning partners and now will appear exclusively on Monday's
Good Morning America
to talk about what has become their
nationally famous altercation
with Dallas traffic cop Robert Powell.
They'll be interviewed by co-anchor Robin Roberts at some point in the ABC program, which airs from 7 to 9 a.m. in D-FW on WFAA8.
CBS11 anchor Karen Borta had told viewers on the station's late night Thursday newscast (delayed by the NCAA basketball tournament) that CBS'
The Early Show
would have an exclusive interview with Ryan and Tamishia Moats on Friday's program.
But that never happened. As previously reported on unclebarky.com, CBS11 spokesperson Lori Conrad said she was informed that the
Early Show
interview "was a lock" until Friday morning, "when the broadcast executive producer got an email saying that they couldn't do the interview because Ryan's wife was still grieving."
Early Show
easily is the least-watched of the three network morning programs both nationally and in D-FW. In last Monday's local Nielsen ratings,
GMA
had 93,002 D-FW viewers, followed by NBC's
Today
(79,716) and
Early Show
(39,858).
This Just In
-- WFAA8 reporter Rebecca Lopez, who broke the story last week, also is in New York for what she says will be the only local station "exclusive" interview with Ryan and Tamishia Moats.
On Sunday's 10 p.m. newscast, Lopez told anchor Shelly Slater that her interview with the couple will air on WFAA8's 5 to 7 a.m.
Daybreak
program before
GMA
's network exclusive. WFAA8 is an ABC affiliate, but is not owned by the network.
Lopez said that Ryan and Tamishia Moats have not sought publicity and plan to do only the
GMA
and WFAA8 interviews.
Nor did the Moatses file a complaint with the Dallas police department, Lopez said. The incident, which occurred on March 17th, came to light only after a Plano officer who witnessed it complained to the DPD, Lopez told Slater. "And that's how this investigation got launched."
Lopez said the Moatses have been "overwhelmed" by all the attention the case has received over the past five days.