Sosa sort of attends Rangers annual charity event
05/07/07 03:40 PM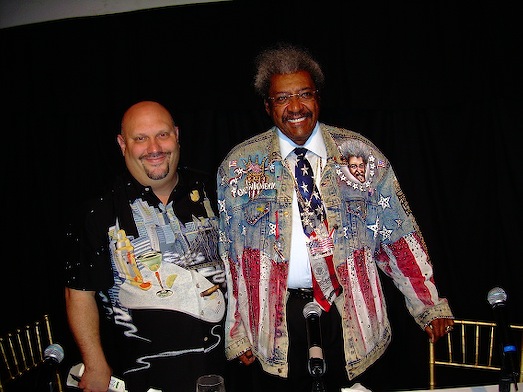 Texas Rangers beat writer Evan Grant and boxing kingpin Don King helped judge an "Iron Chef America" cookoff between 3rd baseman Hank Blalock and catcher Gerald Laird Sunday night. Photo: Ed Bark
By ED BARK
The Texas Rangers Baseball Foundation held its annual fundraiser Sunday night in Dallas, with most of the players, coaches and celebrity attendees gamely dressing up and going to bat for charity.
Rangers second baseman Michael Young as usual couldn't have been nicer. First baseman Mark Teixeira and his wife, Leigh, again served as co-hosts for the evening at the Hilton Anatole.
Legendary fight promoter Don King, assisted by Rangers coach Art Howe and
Dallas Morning News
baseball writer Evan Grant, agreeably judged an "Iron Chef America" cooking competition between 3rd baseman Hank Blalock and catcher Gerald Laird. The secret ingredient was pasta. Laird won.
Young, Teixeira and other players competed in mockups of
Family Feud
and
Hollywood Squares
emceed by Rangers voices Eric Nadel and Josh Lewin.
Rangers public address announcer Chuck Morgan kept stoking up interest in an array of silent auction items ranging from a mounted picture signed by the cast of ABC's
Grey's Anatomy
to basketball shoes autographed by Dirk Nowitzki. It was all for a good cause, after all, with proceeds going to the Texas Rangers Baseball Foundation and Big Brothers Big Sisters of North Texas.
And then there was Sammy Sosa.
Flanked by three bodyguards, Sosa arrived at the same time as most of his Rangers teammates but otherwise was hardly a team player. He scribbled a few indecipherable signatures on baseballs given to attendees, studiously avoiding the "sweet spot" in order to deflate their value. He mostly stood with his protectors on the fringes of a hotel ballroom, waiting for red carpet introductions of players.
After walking the carpet, Sosa and company U-turned to the right and immediately left the event, which had barely started. We watched him stride past our table, wondering whether he'd demanded an appearance fee for even showing up.
In contrast, Don King stayed throughout the event, signing autographs and posing for pictures. And Michael Young could be seen greeting a young fan with "Hey, buddy!"
That likely made the kid's night, and his Dad's, too. But Sosa couldn't be bothered. On a night when the rest of his teammates went extra innings after an afternoon game, Sosa decided that he alone would take an early shower.
He may be an eventual baseball Hall of Famer, but on this night he acted like a bush leaguer. A pity.