Aguilar alleges racial discrimination in suit against Fox4 (updated)
01/13/09 12:10 PM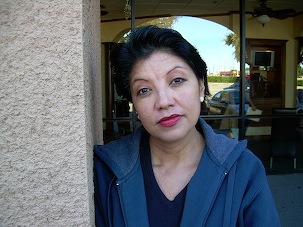 Former Fox4 reporter Rebecca AguilarBy ED BARK
Former Fox4 reporter Rebecca Aguilar filed a
racial discrimination suit
against the station late Monday afternoon, claiming she was suspended and ultimately terminated because of her "documented history of complaining about the treatment of Hispanics and Latinos by her employer."
The lawsuit was first publicized Tuesday by
Courthouse News Service
, which quotes Aguilar's attorney,
Steve Kardell
as saying, "Fox4 wanted my client to advocate change in the community through her reports, but to keep silent in improving working conditions in the newsroom."
Aguilar's repeated proposals that Fox4 "consider interviewing Latino and Hispanic candidates for management positions" resulted in "strained relations with her employer," the lawsuit alleges.
The seven-page suit charges that Fox4 retaliated by taking Aguilar off the air after "pretextual and fabricated criticism about a particular story." That's a reference to her
controversial Oct. 15, 2007
interview with an elderly West Dallas salvage business owner who had shot and killed two alleged burglars within three weeks time. The story and Aguilar's paid suspension attracted national attention and pointed debate on whether she had "ambushed" her interview subject or was just doing her job.
Aguilar was suspended on the day after the story aired and remained off the air until being terminated in early March of 2008. It ended her 14-year career at the station.
Fox4 news director
Maria Barrs
, who is named in the suit, could not immediately be reached for a response. Stations generally do not comment on pending personnel matters. But in response to an earlier
"Charge of Discrimination"
complaint filed by Aguilar through the Equal Employment Opportunity Commission, Barrs told unclebarky.com that "Fox4 looks forward to defending our decision in the appropriate forum."
Aguilar's lawsuit claims that she was suspended and terminated "based upon her race."
"This has caused Aguilar to sustain damages, including, but not limited to, loss of salary, benefits, promotions, past and future income opportunities, emotional pain, suffering, mental distress and anguish," the suit says.
Fox4's decision to retaliate against her "was intentional and performed with malice and/or with reckless indifference to Aguilar's protected rights," according to the lawsuit.
Aguilar is seeking lost wages and benefits from March 2008 to the present, plus punitive damages and payment of her attorney's fees and costs.
In her first comments on the lawsuit Tuesday, Aguilar said she expects criticism "for bringing up discrimination against me."
"But they didn't walk in my shoes for 14 years at Fox4," she said in a telephone interview. "I just don't want this to happen again to another reporter, especially a Latino. That's what counts. That's why I'm doing this . . . Fox hurt my reputation. I had just become the Hispanic broadcaster of the year (as judged by the National Association of Hispanic Journalists). And with one unfair decision, they took me out. So I'm just saying that inside the newsroom, everything is not as 'Fair and Balanced' as Fox always touts."
Aguilar, who remains in Dallas, said she'll "always love television news. And yeah, sure, if I could get back into it, I would. But I haven't seen anyone knocking my door down. I think that has a lot to do with what Fox did to me."