Peacock, not Fox, plucks plum Cowboys-Eagles playoff rematch
01/04/10 12:25 AM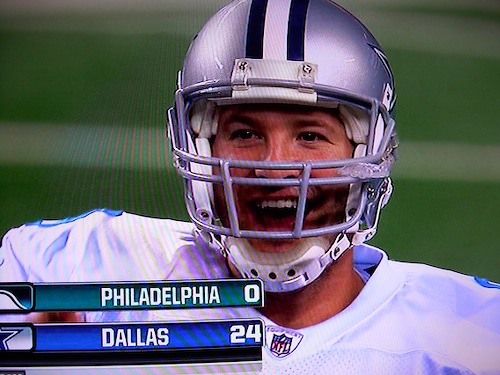 Cowboys QB Tony Romo lights up on Fox Sunday. Photo: Ed Bark
By ED BARK
Fox is the network of the NFL's NFC division. But NBC again will have the Dallas Cowboys just where it wants them -- in prime-time.
The TV schedule for this weekend's four opening playoff games was set Sunday night, with NBC announcing that it will have Saturday night's rematch between Dallas and Philadelphia at Cowboys Stadium.
That gives NBC5 the game that Fox4 clearly coveted. Each of this season's 16 Cowboys regular season games have drawn more than one million viewers in the D-FW market. But Fox4 has seen some of the marquee games go to NBC or elsewhere, including the Sept. 20th unveiling of Jerry's Palace in a gut-grinding 33-31 loss to the New York Giants.
That game, on NBC's
Sunday Night Football
, still ranks as this season's biggest draw locally, with more than 1.7 million viewers. But Saturday night's Cowboys-Philadelphia game stands a very good chance of bettering that mark.
Fox and Fox4 instead will get Sunday afternoon's Green Bay Packers-Arizona Cardinals matchup, which clearly is no match for a Cowboys game.
The Peacock's
Sunday Night Football
also landed two other prize NFC Cowboys games -- the key Nov. 8th win at Philadelphia and the playoff-clinching Dec. 27th victory at Washington.
All told, Fox4 carried nine of the regular season's 16 games, but just two of the final six.
NBC can't strike again, though. It gets only Saturday's two playoff games before the rest of the NFC and AFC matchups respectively go to Fox and CBS.
So if the Cowboys win on Saturday night -- and that's a big if -- Fox4 can still clean up with at least one and possibly two huge post-season draws. For now, though, NBC is in the driver's seat, nabbing the game that got away. As for the Super Bowl, it'll be on CBS. For now, dream on.