Bring him the heads of the 10 p.m. newscasts
04/23/07 10:43 PM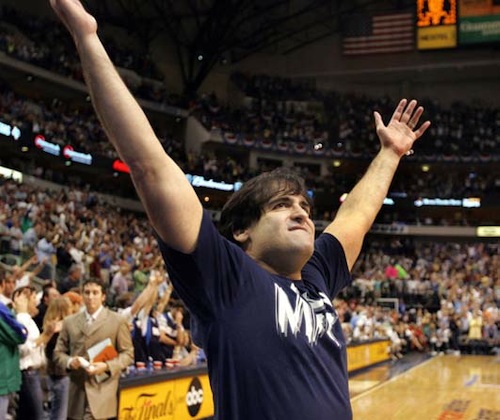 Mark Cuban's Mavs: X-factor in the May sweeps news ratings race.
By ED BARK
Perhaps we're assuming a lot -- that the Dallas Mavericks will go very deep in the NBA playoffs.
But if they do, D-FW's 10 p.m. newscasts are going to have hell to pay on those May sweeps nights when the Mavs are still playing past prime-time.
The four-week ratings period begins Thursday (April 26th), but Sunday night's opening round game between Dallas and Golden State gave the late night newscasts a big taste of what to expect.
From 10 to 10:30 p.m., the game on TXA21 and TNT drew a combined 422,450 homes. The most-watched 10 p.m. newscast, on Belo8, had 135,660 homes.
Those gaps likely will only grow as the games march on. So in an expected close matchup at 10 p.m. between Belo8 and NBC5, Mark Cuban's Mavs could hold the balance of power.
Which station's newscasts will lose the most viewers? Expect slavish efforts to lure as many women as possible whenever Belo8 and NBC5 have to jump through hoops. You'd never dream there are so many ways to lose weight, look younger or buy a Francois Syrah silk scarf for the price of a McDonald's Extra Value Meal.
In email replies to unclebarky.com, Cuban said, "I think about ratings all the time. We are always looking for ways to get our numbers up . . . and certainly like it when we win."
Cuban says he gets "far more news from cable" than the homegrown stations, "but my wife gets 100 percent of her news from local, so I get to see it when she watches."
He didn't specify which one she prefers, if any. And he was pretty generic about which stations' newscasts he'd most like to steal viewers from.
"Any that isn't a broadcast partner or sponsor of the Mavs," Cuban said.
Let's see. CBS11's sister station, TXA21, will get to televise some of the Mavs game in tandem with a cable network.
Fox Sports Southwest, a corporate partner of Fox4, has been a prime carrier of Mavs games during the regular season.
ABC, which includes Belo8 among its affiliate stations, has exclusive rights to The Finals and also is broadcasting weekend NBA playoff games.
That leaves NBC5 out of the equation, but its sports segments with anchor Newy Scruggs get short-sheeted on a nightly basis. The Peacock would rather use that time to give women the dope on how cotton candy sandwiches can be a great diuretic.
Against Cuban's Mavs, that sounds like a winner.