NEW SEASON: For richer and poorer in Fox sitcoms Running Wilde and Raising Hope
09/20/10 04:04 PM
By ED BARK
Fox turns to the certifiable, er, loony, creators of
My Name Is Earl
and
Arrested Development
for a pair of new Tuesday night comedies without laugh tracks or perhaps long-term futures. Let's look 'em over.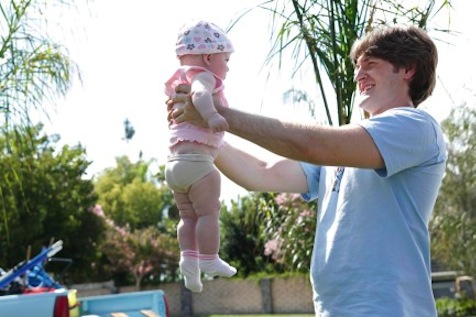 Accidental dad Jimmy Chance and the initially named Princess Beyonce in determinedly rough-hewn Raising Hope. Fox photo
Premiering:
Tuesday, Sept. 21st at 8 p.m. (central) on Fox
Starring:
Lucas Neff, Martha Plimpton, Garret Dillahunt, Cloris Leachman, Shannon Woodward
Produced by:
Greg Garcia
By ED BARK
Greg Garcia, architect of NBC's undervalued
My Name Is Earl
, obviously has an affinity for the downtrodden and patently moronic amongst us.
His latest comedy,
Raising Hope
, features a mom and dad who readily agree that Charles Manson was a good singer. And that's a meeting of the minds that few would dare even think about let alone disseminate over the public airwaves.
The dirt poor Chances strive to mean well, though. Virginia (Martha Plimpton) and Burt (Garret Dillahunt) had their only son, Jimmy (Lucas Neff), when they were both 15. He's grown up to be a 23-year-old underachiever who lives with his parents and batty great grandma Maw Maw (Cloris Leachman).
Sent to pick up a half-gallon of the oldster's beloved bubble gum ice cream, Jimmy has a chance intimate encounter with a comely young woman who turns out to be a wanted killer. She's executed shortly after delivering a daughter she's dubbed Princess Beyonce. Jimmy's determined to do the right thing by the kid, resisting his parents' initial insistence that he drop her off at the local fire station.
Raising Hope
, which also includes a gross-out scene tied to a diaper change, is not nearly as refined as
Earl
in its ability to wring jokes from low-rent circumstances. Leachman's character, who's mostly senile with occasional bouts of lucidity, is flatly uncomfortable to watch in Tuesday's opener. But some of the situations and one-liners click, and there's promise in the budding relationship between Jimmy and a sarcastic store clerk named Sabrina (Shannon Woodward).
For now, though, ABC's
The Middle
is a notably better and funnier depiction of hard-pressed working stiffs in action.
Raising Hope
needs a good scrubbing of scripts if it's going to ultimately find its footing. What we have at present is a little too much bubblin' crude.
GRADE:
C+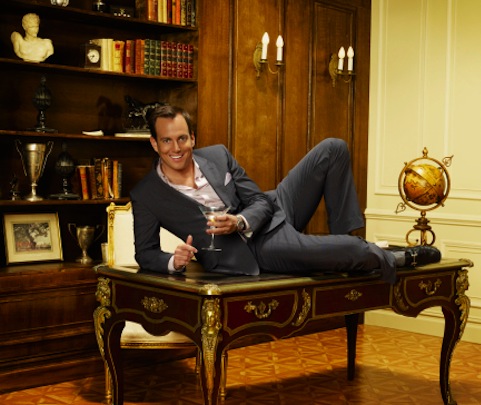 Will Arnett again is full of himself in Running Wilde. Fox photo
Premiering:
Tuesday, Sept. 21st at 8:30 p.m. (central) on Fox
Starring:
Will Arnett, Keri Russell, Stefanie Owen, David Cross, Mel Rodriguez, Robert Michael Morris, Peter Serafinowicz
Produced by:
Mitch Hurwitz, Jim Vallely, Will Arnett
By ED BARK
It's hard to imagine this one going the distance. And in this case that means more than half a season.
Will Arnett, again exhibiting the tan of Republican naysayer John Boehner, plays another smarmy, self-absorbed character in this rather wildly unappealing comedy from
Arrested Development
creator Mitch Hurwitz.
It's probably almost sacrilegious to say that. But Tuesday's launch of
Running Wilde
has little if any curb appeal. Its setup is absurd, the lead character is impossible to like on any level and the jokes are splattered about with the precision of a three-year-old firing a paint gun. Perhaps a few stick to the wall, but not enough to matter. In short, nothing really meshes.
Arnett, an
Arrested Development
alum who's also played a recurring character on NBC's
30 Rock
, heads the cast as rich, infantile playboy Steve Wilde. He's the value-less son of a so far unseen oil baron. The opening episode finds Steve gifting himself with a Humanitarian of the Year award while fearing that no one will attend the ceremony.
But former childhood sweetheart Emmy Kadubic (Keri Russell) manages to make the scene in the interests of saving an Amazon rain forest and its tribe from the despoiling clutches of Wilde Oil. She's been living on site with her 12-year-old daughter, Puddle (Sefania Owen), who secretly yearns to return to the States and hasn't been talking for the past several months.
In what's supposed to be one of the premiere episode's signature lines, Emmy tells Steve that "you don't do charity for an award. You do good for nothing. And I guess that's what you still are."
Clunk.
Two supporting roles have been re-cast, including
Arrested Development
emigre David Cross joining in as the for now inconsequential Andy Weeks. A new character, Mr. Lunt (Robert Michael Morris), is some kind of double-dealing presence within the Wilde mansion. There's also a wealthy next door neighbor named Fa'ad Shaoulian (Peter Serafinowicz), who poses as a doctor in a fall-flat sequence designed to dupe Emmy.
She decides to stick around anyway, vowing to remake Steve and "undo every entitled impulse ever drilled into you."
It's hard to imagine caring any less whether she makes even a tiny dent.
GRADE:
C-minus