06/26/13 01:13 PM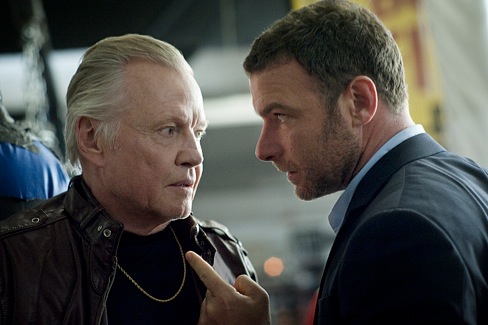 Sins of his father make the son's blood boil. Showtime photo
Premiering:
Sunday, June 30th at 9 p.m. (central) on Showime
Starring:
Liev Schreiber, Jon Voight, Paula Malcomson, Steven Bauer, Elliott Gould, Peter Jacobson, Katherine Moennig, Dash Mihok, Eddie Marsan, Pooch Hall, Kerris Dorsey, Devon Bagby
Produced by:
Ann Biderman, Mark Gordon, Bryan Zuriff
By ED BARK
@unclebarkycom
Author Brett Martin's new TV book,
Difficult Men
, came out just before another weekly anti-hero begins acting up.
Tony Soprano, Walter White, Don Draper, Al Swearengen, Tommy Gavin, Vic Mackey, Dexter Morgan, the entire male cast of
Sons of Anarchy
. All have qualified in just the last decade or so. Now it's "fixer" Ray Donovan, who's been fairly happily cleaning up messes for Hollywood's rich and powerful before his despotic father Mickey suddenly shows up after surreptitiously obtaining a Get Out of Jail card.
Showtime's taut and pretty terrific
Ray Donovan
, starring a hard-boiled Liev Schreiber as the title character, premieres on Sunday, June 30th following the start of
Dexter
's eighth and final season.
Schreiber brings a solid, stolid presence to the role. But it's Jon Voight as Mickey who gives this drama its ferocious, dangerous and sometimes creepy edge. This is Voight's best work in decades as a former gangster with Boston's Irish mob who spends 20 years behind Massachusetts bars before emerging with a devil's glint and a thirst for revenge on his terms.
Mickey's first very willful act is to pop the priest who molested his son "Bunchy" (Dash Mihok) as a kid and turned him into a drug- and alcohol-addicted basket case. But did he kill the right guy? Whatever the case, he's heading West to settle other scores.
During Mickey's incarceration, all the other Donovans have relocated/fled to Los Angeles. Ray and his very Bah-stun wife, Abby (Paul Malcomson), have a daughter, Bridget , and a son, Conor (Kerris Dorsey, Devon Bagby). Refreshingly, neither is a punk. In fact, both are pretty sweet.
Ray's other brother, Terry (Eddie Marsan), a broken-down boxer with Parkinson's Disease, helps to run Donovan's Fite Club. Their kid sister, Mary, is no longer with them. She dove off a building as a teenager, and Ray still mourns her with a "Mary Donovan R.I.P." tattoo on his chest.
There's also a half-Donovan named Daryll (Pooch Hall), whose origins will be made fully clear in Episode 2.
Sunday's premiere for the most part builds sturdily to an up-close and personal clash between Ray and Mickey. Voight's real-life problems with his daughter, Angelina Jolie, have been heavily publicized over the years. But their rocky relationship, since mended, seems to pale in comparison to the father-son estrangement in
Ray Donovan
. Go near his family and he'll kill him, Ray tells Mickey. Which doesn't stop him from doing just that on the sly.
The Ray-Abby marriage is roughly comparable to that of Tony and Carmela on
The Sopranos
. Other women gravitate toward Ray in the line of business, and he's not entirely immune to their advances. He's also willing to use force when needed, including a baseball bat in Episode 1. Ray also has something of a tagline -- "I got another call."
Abby enjoys the creature comforts her husband has provided, but takes no guff when pushed. Their arguments are mostly propelled by her, though, while Ray remains a man of few words, or none at all. Tony would have barked right back. Ray tends to keep his mouth firmly in check, but won't tolerate any inroads from Mickey.
"He's an old man. He just wants to have some family in his life," Abby pleads near the start of Episode 3. It's enough to again send Ray stalking off to the "fancy apartment" -- her words -- he keeps on the side. Still, these scenes crackle.
Ray's principal "associates" are a methodical Israeli bruiser named Avi (fine work by Steven Bauer) and the quietly efficient Lena (Katherine Moennig), described in publicity materials as a "laconic, hard-boiled lesbian." But her character still needs considerable fleshing out, even after the first four episodes that were made available for review.
Ray Donovan
tends to get a little weak downstairs, though, whenever one of his Goldman/Drexler law firm employers enters a scene. Lee Drexler (Peter Jacobson) is inevitably in a loud state of panic over the high-stakes fates of his jeopardized clients. But Elliott Gould's Ezra Goldman can be even harder to take as a grieving widower with growing dementia who's intent on atoning for the "bad things" he's done in concert with Ray.
Gould, an actor of the same generation as Voight, is not nearly in the same league anymore. His Ezra character enervates the proceedings while Voight's Mickey electrifies them. It would be far more bracing if Ezra would soon take a long walk off a short Santa Monica pier. Perhaps he'd like to take his law partner with him. Both would be welcome departures, freeing Ray to work for someone else.
Don't do anything to Mickey, though. His coarse sensibilities and seeming cocksure bravado are as elemental to
Ray Donovan
as a forklift in an appliance warehouse. But his character also is beholden to one. And so even Mickey sometimes must do what he's told in order to avoid a return visit to the cell that son Ray so badly wants him in.
The major promise of
Ray Donovan
and the still first-rate qualities of
Homeland
give Showtime its latest one-two punch in a never-ending bout with arch-rival HBO. Schreiber brings fortified steel to the title role while Voight makes this series shake, rattle and pulsate. In his 74th year, it suddenly seems as if he's only just begun.
GRADE:
A-minus
Email comments or questions to:
unclebarky@verizon.net