07/25/08 10:10 AM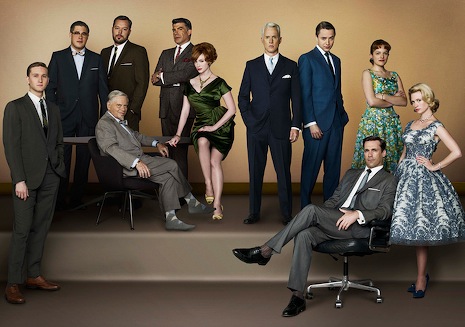 By ED BARK
Now here's a series that's smokin' hot, and not just because most of its principal characters keep lighting up the screen with nicotine.
AMC's
Mad Men
fortuitously starts its second season Sunday (at 9 p.m. central) on the heels of receiving more Emmy nominations (16) than any other drama series.
It deserves all of them for an evocative, provocative first season that rewound almost a half-century to a circa 1960 Madison Avenue advertising agency populated by thin-tied, vice-laden, tight-suited salesmen and makeup-lathered women who wore the hell out of their form-fitting dresses and rigidly constructed undergarments.
Let it be said that the early '60s were absolutely smashin' for fashion -- then and now. When's the
Mad Men
clothing line coming? The series easily has enough buzz, praise and momentum to launch one, even if only a million or so viewers on average watched its first 13 episodes from mid-summer to early fall.
The ultra-authentic look and feel of
Mad Men
contrasts with the cheap attempts at atmospherics on CBS' ongoing, 1970s-set
Swingtown
. Creator and executive producer Matthew Weiner, formerly a key behind-the-scenes player on
The Sopranos
, has this particular portal down pat. Nothing about
Mad Men
looks goofy or contrived. Its characters, led by debonair but demon-plagued Don Draper (Jon Hamm), are as strikingly real as the Lucky Strike cigarette campaign that kicked off Season 1.
Back then, the Sterling Cooper Advertising Agency's clients also included Richard Nixon's presidential campaign. But the season ended with Nixon's defeat and Draper's retreat into himself after his real identity became known to nefarious up-and-comer Pete Campbell (Vincent Kartheiser).
So far only Campbell and agency founding partner Bertram Cooper (Robert Morse) know that Draper is really Dick Whitman. But they don't know the particulars, which viewers do. In short, Whitman's traumatic experience in the Korean War and distaste for his surrogate parents triggered an impulsive decision to claim the name of a fellow soldier whose death he inadvertently caused.
Season 2 fast-forwards from Thanksgiving Eve, 1960 to Valentine's Day, 1962. And the first two episodes move at the same somewhat languid pace of last season's. There's no quick, stunning hook coming, but
Mad Men
sure knows how to marinate.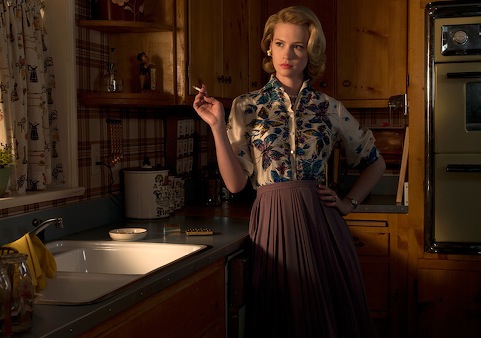 January Jones as Betty Draper now churns outwardly and inwardly.
Draper's wife, Betty (January Jones), for one is growing weary of her husband's emotional detachment and suspicious of his extracurricular activities.
Her demeanor is getting icier. But on Valentine's night, she's a bejeweled, begowned stunner at a ritzy restaurant rendezvous arranged by her husband. Betty is no Boop, either in an evening dress or a black negligee she unveils when Don takes her to a room he's reserved at the swank Savoy hotel. His performance otherwise falls short, so they end up watching First Lady Jacqueline Kennedy's breathless, televised tour of the White House.
Meanwhile, ex-agency gofer Peggy Olson, now a full-fledged junior copywriter, is notably slimmer after unexpectedly delivering a baby at the end of last season. The secret father is the aforementioned Pete Campbell, who's married but ever on the make both personally and professionally.
Peggy is no pushover either. In fact she's getting a bit haughty as her workplace influence grows.
"I'm in the persuasion business," she tells a young Lothario at a party that kicks off Episode 2. "And frankly, I'm disappointed in your presentation."
Pete also gets a personal jolt in Episode 2 after an American Airlines crash leaves the company in search of a new image-maker. Sterling Cooper already has the much smaller Mohawk airline under contract. But business is business, and landing American would be a big and showy upgrade.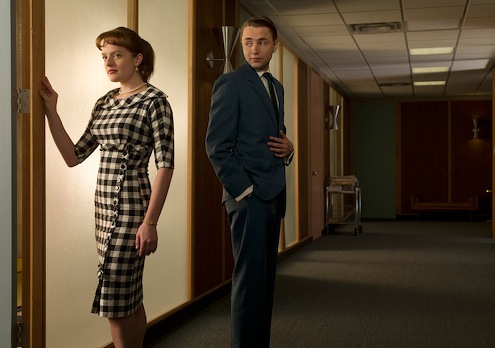 Peggy Olson (Elisabeth Moss) & Pete Campbell (Vincent Kartheiser)
Another of
Mad Men
's major players, co-partner Roger Sterling (John Slattery), had twin heart attacks near the end of last season.
Fifteen months later, he seems fully recovered and eager to make another deal that Don Draper doesn't like. One of the series' continuing intrigues is whether they're on a collision course or, in the end, on the same track.
These first two episodes of Season 2 also will reveal the whereabouts of Peggy's baby and depict a newly minted "Bohemian" lifestyle on the part of ad copywriter Paul Kinsey (Michael Gladis), who now has a beard and a black girlfriend.
The latter development is met with arctic disdain by head secretary Joan Holloway (Christina Hendricks), whose bust continues to precede her whenever she walks the walk, talks the talk.
Those who haven't yet seen
Mad Men
might find themselves in a bit of a fog. Then again, the Season 1 DVD is newly available for power-watching before the series begins anew.
Whether the show makes a bigger sale with audiences is important but not crucial to AMC. This is the network's maiden voyage into the intoxicating land of in-demand. Cachet and all those attendant magazine covers don't pay the bills. But if you've got 'em, smoke 'em.
Grade:
A-minus