12/04/18 12:41 PM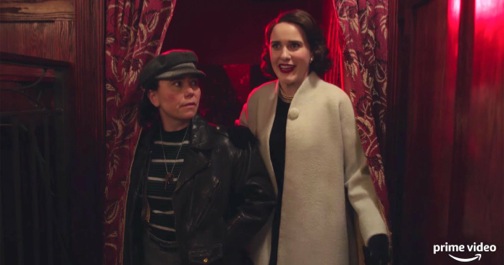 Emmy winners Alex Borstein & Rachel Brosnahan remain front & center in Season Two of The Marvelous Mrs. Maisel. Amazon photo
By ED BARK
@unclebarkycom on Twitter
Eagerly awaited. Most anticipated. Still the best.
All of the above hyperbole actually holds true with Amazon Prime's
The Marvelous Mrs. Maisel
, which took a big Emmy shower in mid-September and at last is nearly back for a longer Season Two. Ten new episodes are ready to roll on Wednesday, Dec. 5th, with a Season Three already on order. As holiday season gifts go, nothing could be much finer. OK, a brand new car maybe.
Amazon made the first five episodes available for review, with the usual list of taboo "spoilers" attached. Not to spoil anything, but you might as well pencil in stars Rachel Brosnahan and Alex Borstein for return visits to the Emmy podium next year. They're still that good in a comedy/drama series that remains peppy, snappy, musically magnificent and bursting with living colors.
Visually speaking,
Mrs. Maisel
oftentimes steals one's breath away with its vibrant palettes, whether the settings are New York City, Paris or the Catskills. Yes, Paris.
C'est la vie
-- without much further elaboration in the interests of keeping viewers guessing on why most of the principals end up there in early episodes.
Mrs. Maisel's
architect, eccentrically irrepressible Amy Sherman-Palladino, had been best known for
Gilmore Girls
and to a much lesser degree,
Bunheads
. But this is her masterwork, and she's already been rewarded for it by being the first woman to win comedy writing and directing Emmys for the same show at the same ceremony. Clearly she's having a grand time with this late 1950s tale of a Jewish housewife turned struggling standup comic after her husband got horizontal with another woman.
Brosnahan, as Miriam "Midge" Maisel, remains superb in the role, whether running a switchboard, sparring with her parents or sparkling onstage with a rapid-fire ribald act that Sherman-Palladino says is patterned after Joan Rivers' early efforts to break down gender barriers. Borstein, who broke into the biz as a rep player on Fox's late night
Madtv
series, is her indispensable foil as profane Susie Myerson. They met in Season One at The Gaslight Cafe, where Susie tended bar while hoping to someday become a talent manager. Miriam is her would-be meal ticket, but first they'll have to actually get some gainful gigs. Lenny Bruce (Luke Kirby) is still around to help grease some skids.
Last season ended with Miriam and her estranged husband, Joel (Michael Zegen), in the throes of possibly getting back together again. But then he witnessed her "act," which gets laughs at the expense of their previously failed marriage. The guy looked more downtrodden than a New York Jets fan.
Miriam's well-to-do parents, Abe and Rose Weissman (Tony Shalhoub, Marin Hinkle), remain unaware that their daughter is dabbling in a profession of such ill repute. Joel's mom and pop, Shirley and Moishe Maisel (Caroline Aaron, Kevin Pollak) likewise are very much in the picture as Season 2 gets underway. This is particularly a career resuscitating role for Pollak, whose verbal bouts with his son are a highlight of the new season's Episode 2.
In present times, some might see
Mrs. Maisel
as a little too white and privileged. There are no minority characters of note, which is glaringly evident in Episode 4, when those that can afford it head to The Catskills for an annual two-month summer retreat at the Steiner Mountain Resort. Abe and Rose Weissman are among those who very much can foot the bill, with Miriam happily joining them while poor Susie is left in Manhattan without a client. She shows up anyway, in the guise of a plunger-toting "plumber" hoping to fake her way to free room and board while angling to get Miriam some standup spots at nearby resorts.
The scenes at the Catskills are glorious, painstaking recreations, reflecting times when the Jewish experience (among those of some means) is its own form of distinct diversity. This includes some cringe-worthy moments of self-entitlement, whether it's Moishe and Shirley arriving very loudly and self-importantly, or Miriam retorting, "Bring that, too" when she's informed "there's a baby in the back seat." Almost beside the point: Miriam has two young children, but oftentimes you'd never know it.
Episode 4 also introduces Zachary Levi (former star of NBC's
Chuck
) as a keep-to-himself bachelor and doctor named Benjamin. We'll see how that goes.
Mrs. Maisel
remains loaded with special moments and deft asides. A montage of Miriam's evolving standup act makes for a terrific start to Episode 3. Later on, Abe's affection for the Steiner resort's signature tomato juice is close to being endearing. He remains anal (as Shalhoub was while starring in
Monk
), but is a case study in relaxation compared to Moishe, who bellows, "In my business (he owns a garment factory), a man sweats and stinks 'til he dies!"
The Marvelous Mrs. Maisel
in contrast still works like a charm.
GRADE:
A
Email comments or questions to:
unclebarky@verizon.net