03/27/14 03:23 PM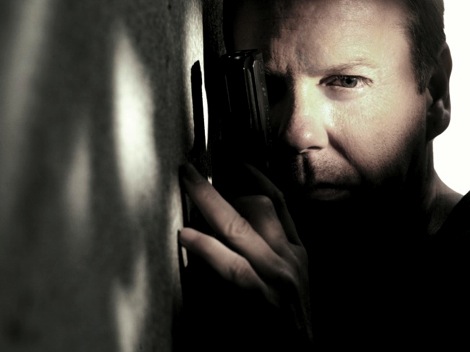 Kiefer Sutherland as you know who in you know what. Fox photo
By ED BARK
@unclebarkycom on Twitter
Within the next six weeks or so, the Big Four broadcast networks will all announce their new fall lineups.
But in reality, they might well have just as much or more new stuff this spring and summer. ABC, CBS, Fox and NBC have now all announced their plans for what not that long ago was a throwaway time of the year. But the runaway success of
Under the Dome
on CBS has everyone much more invested this time around.
We're just going to detail the new series coming your way in the next several months. And we'll start with NBC, since they're the last to announce while also boasting that the six new scripted series "mark the most for any broadcast network in 21 years."
NBCThe Night Shift
(drama) -- Zoom in on the "irreverent and special breed" of men and women working the overnight shift at fictional San Antonio Memorial Hospital. The stars include Freddy Rodriguez from
Six Feet Under
and a few short-lived drama series since then.
Premieres Tuesday, May 27Undateable
(comedy) -- A bunch of guys hang out at a bar while hoping to get lucky rather than continuing to strike out. Chris D'Elia from
Whitney
heads the cast. Bill Lawrence (
Scrubs, Cougar Town
) is the executive producer.
Premieres Thursday, May 29Crossbones
(drama) -- Arrgh, this one originally was intended for midseason. But it could be worth the wait to see John Malkovich starring as Blackbeard and reigning over a "rogue nation of thieves, outlaws and miscreant sailors."
Premieres Friday, May 30Taxi Brooklyn
("action comedy", which means it's an hour) -- Thrill to the "fractious, closely bonded partnership between a streetwise Marseilles-born New York City taxi driver and an intensely driven NYPD detective." The stars are Chyler Leigh, Ally Walker, Jennifer Esposito and Jacky Ido.
Premieres Wednesday, June 25Welcome to Sweden
(comedy) -- The executive producers are Amy and Greg Poehler, so this could be good. Greg stars as a dutiful hubby who moves to the native Sweden of his wife (Joseph Bornebusch) after she accepts a "prestigious banking position." NBC says the cast also includes Patrick Duffy, Lena Olin and Illeana Douglas.
Premieres Thursday, July 10Working the Engels
(comedy) -- Andrea Martin of
SCTV
fame plays the matriarch of a family left with a "mountain of debt" after Dad dies and leaves his storefront law firm in disrepair.
Premieres Thursday, July 10Food Fighters
(unscripted) -- Adam Richman, formerly the over-eating star of
Man vs. Food
(he's since dropped 70 pounds), hosts a competition in which America's "best amateur cooks" pit their signature dishes against professional chefs.
Premieres Tuesday, July 22ABCBlack Box
(drama) -- A bipolar world famous neurologist tries to keep her head on straight at a "state-of-the-art medical institution" dubbed The Cube. Kelly Reilly stars, with the uniquely named Ditch Davey also in the ensemble.
Premieres Thursday, April 24The Quest
(unscripted) -- ABC promises to "literally take contestants and audiences to an amazing, imaginative realm where the ogres are advancing in the woods, the dragons are stirring, agents of a dark lord are infiltrating the keep" . . . and so on.
Premieres Thursday, June 19Rising Star
(unscripted) -- Believe it or not, this one "completely reinvents the traditional singing competition." Why, you ask? Because "for the first time ever, the audience has the final say in real time." Deposed
American Idol
maestro Ken Warwick is the main executive producer.
Premieres Sunday, June 22The Astronaut Wives Club
(drama) -- Based on the book by Lily Koppel (no relation to Ted), the 10-episode limited series tells the stories behind the spouses of America's first batch of path-finding rocket riders. There are no familiar stars in the cast.
Premieres Thursday, July 24CBSReckless
(drama) -- Billed as a "sultry" legal hour set in Charleston, S.C., this is what happens when a "gorgeous Yankee litigator and a charming southern attorney must hide their intense mutual attraction as a police sex scandal threatens to tear the city apart." Actors named Anna Wood and Cam Gigandet play the principals.
Premieres Sunday, June 29Extant
(drama) -- This is the network's ambitious attempt to ride the momentum of
Under the Dome
, which returns for Season 2 on Monday, June 30. Halle Berry stars as astronaut Molly Watts, who hopes to reconnect with her family after a year in outer space. While up there she had some "mystifying experiences" that lead to "events that will ultimately change the course of human history." Goran Visnjic from
ER
plays Molly's hubby, John.
Premieres Wednesday, July 9
Fox24: Live Another Day
(drama) -- Kiefer Sutherland's ever-resilient Jack Bauer is back, this time for a 12-hour effort to "thwart an unthinkable terrorist attack that could change the world forever." It's set in London, with Chloe O'Brian (Mary Lynn Rajskub) also returning.
Premieres Monday, May 5Riot
(comedy) -- "The nation's funniest celebrities and comedians" come up against a series of mondo song, dance and sketch challenges on a set tilted, for some reason, at a 22-degree angle. Steve Carell is among the executive producers.
Premieres Tuesday, May 13Gang Related
(drama) -- Former
Lost
star Terry O'Quinn takes yet another shot at making one stick. This time he's "elite Gang Task Force" leader Sam Chapel, whose principal foe is a ruthless Latino gang known as Los Angelicos. A gaggle of younger cast members execute his orders, including former gang member turned detective Ryan Lopez (Ramon Rodriguez).
Premieres Thursday, May 22I Wanna Marry "Harry"
(unscripted) -- Cut from the same cloth as Fox's
Joe Millionaire
, this one stars an everyday English "bloke" who's given an "upper crust makeover." Will the 12 American gold diggers in search of "Prince Charming" be duped into thinking he's royalty? Oh for crap sakes.
Premieres Tuesday, May 27
Email comments or questions to:
unclebarky@verizon.net