05/28/15 07:36 AM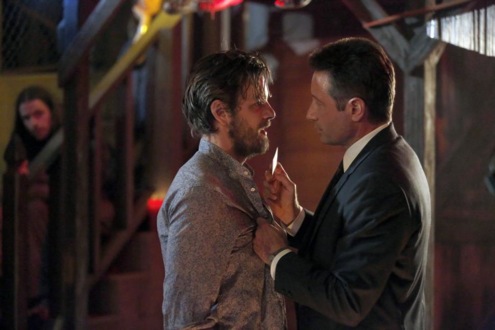 David Duchovny (right) & Gethin Anthony square off as a hard-boiled detective and Charles Manson in the 13-episode Aquarius. NBC photo
Premiering:
Thursday, May 28th at 8 p.m. (central) with back-to-back episodes on NBC
Starring:
David Duchovny, Gethin Anthony, Emma Dumont, Grey Damon, Claire Holt, Brian F. O' Byrne, Michaela McManus, Gaius Charles, Chance Kelly, Chris Sheffield
Produced by:
John McNamara, David Duchovny, Marty Adelstein, Melanie Greene, Becky Clements, Sera Gamble, Alexandra Cunningham, Jonas Pate
By ED BARK
@unclebarkycom on Twitter
What a long, strange, dark, tangled and ultimately run-around trippy trip NBC has in
Aquarius
.
All 13 episodes were made available for review and they'll all be on NBC.com -- Netflix-style -- after the two-hour Thursday, May 28th premiere.
I've watched everything there is to see -- and it was by no means a complete waste of time. Just don't be easily misled by NBC's "Murder. Madness. Manson" tagline. Because while Charles Manson is very much a front and center focal point, his infamous, seven grisly murders are not. None are committed and therefore none are solved.
Aquarius
instead offers three peripheral cliffhangers at the end of Episode 13. All involve fictional characters woven into the fabric of crazy-quilted Los Angeles, circa 1967 for starters. Should
Aquarius
not get a Season 2, viewers will be left in full dangle.
A printed disclaimer at the start of each one-hour episode goes like this: "Inspired in part by historical events, this program contains fictitious characters, places and circumstances."
That's a Capital M Major understatement, particularly when it comes to Manson (Gethin Anthony). In this "re-imagined" drama, he's a straight razor-wielding blackmailer who has the goods on two prominent evil-doing Republican backers of Richard Nixon's presidential campaign. Manson continues to have sexual relations with one of them -- prominent closeted gay attorney Ken Karn (Brian F. O'Byrne) -- while being a participant in a heinous past crime committed by both of them. Fox News Channel can have another field day if it likes.
Manson still has his harem of wayward "girls" and delusions of being a music superstar. And his eyes burn, of course, when he declares in Episode 6, "You can be afraid. Or you can be the thing that makes people afraid." But there's no record of him being beaten nearly to death by L.A. homicide detective Samson "Sam" Hodiak (principal star David Duchovny).
Wearing straight arrow suits and sporting a brush cut, Duchovny essentially plays Joe Friday, but with multiple vices. He's a dry-humored World War II veteran with an estranged wife, an AWOL son, a severe drinking problem and a willingness to look the other way when a cover-up is required. Hodiak also beds enough women to keep Duchovny within at least an arm's reach of his
Californication
days. Not that he can match Manson, who swings both ways.
Hodiak's police partner is scruffy Brian Shafe (Grey Damon), an off-and-on undercover cop who often rubs him the wrong way. But their relationship slowly thaws, to the point where Shafe says, "You're not as dumb as your haircut" and Hodiak replies, "Gee, we're bonding."
Aquarius
gets off to a strong start -- musically at least -- with evocative tunes in Episode 1 from The Byrds, The Who, The Rolling Stones and The Jefferson Airplane. But the rights-clearing music budget apparently was exhausted in short order. Most of
Aquarius
ends up being generic in tone, with occasional bursts of familiarity by the likes of Donovan, The Monkees and Petula Clark.
Hodiak and Shafe are presented with other murder cases during the meandering course of
Aquarius
while also having brushes with the Black Panther Party and Latino activists. Blacks are still "colored" in Hodiak's vernacular. But he does manage to forge a working relationship with Panther leader Bunchy Carter (Gaius Charles from
Friday Night Lights
in a transparently bad Afro wig when not wearing his beret).
Other oft-seen supporting characters include Emma "Cherry Pop" Karn (Emma Dumont), who becomes the willing apple of Manson's eye, and cop shop denizens Charmain Tully (Claire Holt) and Ed Cutler (Chance Kelly). Meanwhile, Hodiak's son, Walt (Chis Sheffield), is on the lam from the Army after balking at being a covert operative in Cambodia. He intends to expose the government's war crimes, much to his father's consternation.
The beauteous Charmain yearns to be a real on-the-job cop rather than an ornament on the receiving end of recurring chauvinistic abuse from Cutler (a character who's also sleeping with Hodiak's estranged wife). She gets her wish in a very vividly played and effective Episode 9. Near the end of this hour, Charmain nails Hodiak with a putdown that's almost cheer-worthy. It's enough to make him drink heavily that night, slurping on a giant-sized, spiked margarita that sends him on a Manson-instigated acid trip at the start of Episode 10. This is not as laughable as it might sound. In fact, Hodiak's hallucinations are pretty spot-on, based on my own, um, research from many years ago.
Aquarius
is decently scripted for the most part while also immersing itself convincingly in the counter-culture of those times. There are some clunkers, though. Karn, for one, spouts his devotion to Nixon in an award, catch-all, sandwich board proclamation. "Dick Nixon is the only hope this country has to rise up out of the political, moral, hippie-coddling, war-torn quagmire it's in," he declares to dissatisfied wife Grace (Michaela McManus), whose extracurricular activities including sleeping with her old boyfriend. Who of course is Hodiak.
Despite its letdown ending, oft-jumpy storytelling and extreme liberties with Manson in particular,
Aquarius
also leaves a mark as a chancy and difficult undertaking by a mainstream broadcast network. Duchovny is up to this task with a sturdy and watchable center-ring performance, whether he's playing rough, bending rules, cracking wise, drinking to excess or showing shreds of compassion.
Anthony's portrayal of Manson isn't what it could be, in part because of what the storytellers have concocted for him. In some ways, the most effectively chilling character is Kelly's old-line cop, Cutler, a chiseled, middle-aged bigot who like Hodiak has a completely fabricated physical altercation with Manson.
Whatever your enjoyment or disappointment,
Aquarius
is no summer throwaway. We now live in the age of hot weather, otherworldly "event" series, whether it's Fox's
Wayward Pines
, CBS' trio of
Under the Dome, Extant
and the new
Zoo
(coming June 30th) or ABC's
Astronaut Wives Club
(June 18th).
Aquarius
fits right into that new way of doing things, and it's worth at least an exploratory trip to see if it sticks with you.
GRADE:
B-minus
Email comments or questions to:
unclebarky@verizon.net