02/28/11 05:47 AM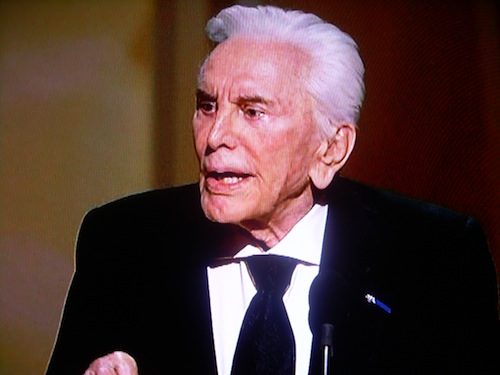 Captain Kirk made it work early on Sunday's Oscars. Photos: Ed Bark
By ED BARK
Youth was served on Sunday's Oscars, with Anne Hathaway telling co-host James Franco near the start, "You look very appealing to a younger demographic as well" after he told her she looked smashingly "hip."
The kids were all right. But the night's moments to remember came from a vocally impaired 94-year-old Hollywood legend and an actress old enough to be the 28-year-old Hathaway's mom.
Kirk Douglas took the stage, with help from a cane, to eventually present the best supporting actress award to 50-year-old Melissa Leo for her role in
The Fighter
.
His voice still impaired by a 1996 stroke, Douglas nonetheless commanded the stage with a presentation that walked a fine line between embarrassing and endearing but came out well on top. He played around with actors Hugh Jackman and Colin Firth, flirted a little with Hathaway ("Where were you when I was making pictures?") and then further delayed the night's first big reveal by first wrestling a young assistant for his cane and then noting after opening the envelope, "Ya know, I will never forget this moment. Three times. And I lost every time."
For the record, Douglas had three best actor nominations, all in the 1950s, for
Champion, The Bad and the Beautiful
and
Lust for Life
. He then received an honorary Oscar in 1996 during the days when those awards were still part of the big show. On Sunday night, however, the longest living epitome of Old Hollywood pretty much made the show with a strong assist from the frazzled Leo.
The former co-star of NBC's long-running but always ratings-challenged
Homicide: Life on the Street
began by noting that "I'm just shakin' in my boots here." She soon inadvertently dropped an f-bomb (bleeped by vigilant ABC censors), while noting, "When I watched Kate (Winslet) two years ago, it looked so (bleeping) easy."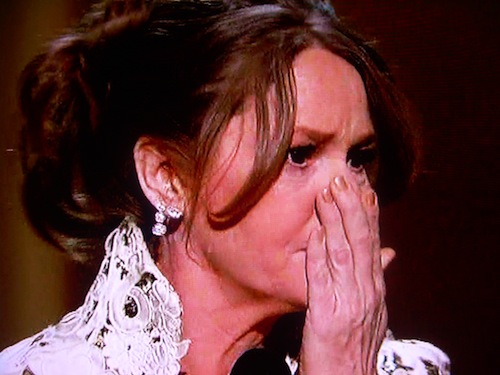 Oh behave yourself. Leo reacts to her slip o' the tongue.
The crowd laughed/gasped while Douglas stood nearby. The two of them then ambled offstage, with Leo comically using his cane to steady herself. All of this happened in the first half-hour -- and Oscar didn't have all that much to offer for an encore.
The three big winners --
The King's Speech
for Best Picture and Colin Firth/Natalie Portman for Best Actor/Actress -- were all pretty much as predicted. All involved gave nice acceptance speeches, though, with Firth noting his imminent need to visit the restroom to remedy a rumbling in his stomach. And Best Director Tom Hooper, also honored for
The King's Speech
, graciously noted that his mother had brought the idea of the movie to him after seeing a stage reading. "And the moral to this story is, 'Listen to your mother,' " he concluded while she beamed from the audience.
Hathaway and Franco began the festivities with an amusing but not exactly side-splitting or innovative sendup of
Inception
, during which they incorporated themselves into some of the year's nominated films. Hathaway did have a funny line, though, while standing amid a big speechifying scene from
The King's Speech
. "I have good news from the future," she proclaimed. "Microphones get smaller."
She was cute and winningly giggly throughout the show while the comparatively sleepy-eyed Franco delivered his lines in what appeared to be a practiced cue card-fixated monotone. But he scored a couple of times, first when appearing in a pink dress and blonde wig next to the tuxedoed Hathaway, who had just performed a little song.
"The weird part is I just got a text message from Charlie Sheen," he cracked.
Later on, Franco professed to be uncomfortable with the not-ready-for-network TV titles of some nominated movies, including
Winter Bone
and
Rabbit Hole
. "
How to Train Your Dragon
. That's disgusting," he added.
The ceremony's annual tribute to the dead was livened by Celine Dion's performance of
Smile
while most of the clips and stills of the deceased showed them doing just that. Halle Berry then came on to do a brief, separate salute to Lena Horne as a pathfinding black actress/singer.
As always, the show seemed to go on and on and on. But it came in at a relatively trim three hours and 15 minutes, which included all of the closing credits. Last year's ceremony ran three hours and 37 minutes. The all-time record holder, telecast on March 24, 2002, lasted a whopping 4 hours, 23 minutes.
That marathon marked songwriter Randy Newman's first Oscar win in 16 tries. "I don't need your pity," he deadpanned.
On Sunday night, Newman won for the second time in 20 tries -- for "We Belong Together" from
Toy Story 3
. He again noted his lousy track record in a nicely tuned self-deprecating acceptance speech that had actor/presenter Kevin Spacey visibly cracking up from the audience.
Win or lose, though, this much is certain. No one's going to be humming or singing this song 10 years from now -- or even on this morning after. Those days seem to be all but gone.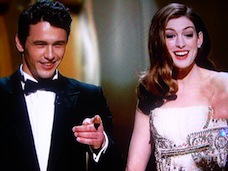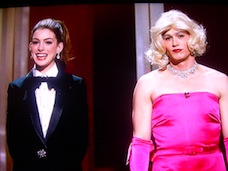 Thanks. You've been a great audience.