12/12/07 01:34 PM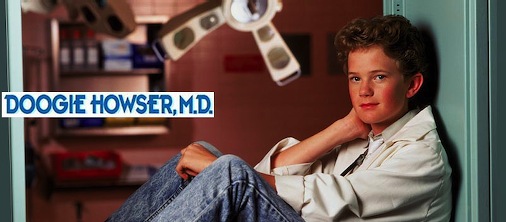 By ED BARK
Have you hulu'd yet?
Probably not. The new service is barely brand new, but it's already a treasure trove.
Backed by NBC Universal and News Corporation (parent company of Fox),
hulu.com
is the must-see Web site of the year for TV-philes of all ages. You'll have to register and get a password first. That could take a day or two, or longer.
After that, there
is
such a thing as a free lunch. Hulu's eclectic list of programming choices, in just its very formative stages, ranges from
Hill Street Blues
to
Family Guy
, from
Doogie Howser, M.D.
to
Scrubs
.
The time travels are the most tantalizing. For no charge, you can dial up the complete premiere episodes and more of Emmy caliber series such as
Hill Street, Doogie, The Mary Tyler Moore Show, The Bob Newhart Show, Buffy the Vampire Slayer, Miami Vice, The Practice, St. Elsewhere, WKRP in Cincinnati, Remington Steele, Picket Fences
and even the original Lorne Greene-fronted
Battlestar Galactica
.
For some reason, the 1992 CBS dog
Tequila & Bonetti
also is on the menu. But whatever your tastes, all shows play with crystal clear precision with only brief commercial interruptions. The quality is infinitely better than most youtube entries.
Hulu also lets you catch up on an array of ongoing series. For now, all of them are either Fox or NBC Universal properties, including
Heroes, House, The Office, Prison Break, Friday Night Lights
, etc., etc.
Oddly excluded in the current mix is Fox's
Mad TV
. But fans of
Saturday Night Live
can munch on 398 different clips as of this writing.
The current hulu menu lists 158 titles, including a handful of movies such as
Sideways
and
October Sky
. Some early commenters complain that the movies are edited for content, which would be a dumb thing to do if true.
You'll find far more to like than dislike about hulu, though. It makes a too-good-to-be-true first impression, and that's an understatement.
We'll close with a brief sample clip to demonstrate the clarity of videos. (You also can go to the Above the Fold page on unclebarky.com to see one of hulu's
Hill Street
excerpts.)
12/11/07 04:12 PM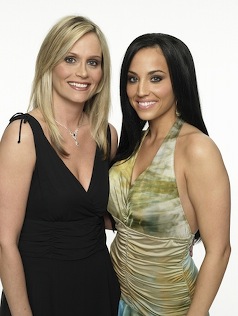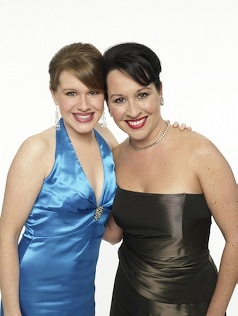 Texas pageant pairs: Ada & Christan vs. Hollis & Gina.
Premiering:
Wednesday, Dec. 12th at 8 p.m. (central) on The CW
Hosted by:
Shanna Moakler
Starring:
11 mother-daughter combos
Created by:
Laurie Girion
By ED BARK
Imagine the heartbreak of being judged deficient at your very first "de-sashing ceremony."
Not only that, but you'll have to cut your own sash. With a scissors. On national television.
In that case, be happy you're only on The CW, where ratings smashes are not applicable. Unfortunately, though,
Crowned: The Mother of All Pageants
is a harbinger of what's coming in a strike-damaged season that soon will be pimpled with an array of reruns and cheaply produced reality hours.
Crowned
, which CW is promoting with the slogan "Competition's a bitch," pairs up 11 mother-daughter combos in pursuit of a $100,000 grand prize. One of them is dumb enough to come up with the name "Silent But Deadly" for their team. Judge Carson Kressley, segueing from
Queer Eye For the Straight Guy
, is quick to point out the obvious. What a gas, gas, gas this is going to be.
Two of the teams are Texas-connected. Mother Ada and daughter Christan are from Dallas. They're also instantly unlikable after the punk kid declares, "I'm gonna get what I want, and if you don't like it, don't bother me."
They later dub themselves "Hot & Not," a not so subtle slap at ol' momma.
Making a far better first impression, both with judges and viewers, are Fort Worth's Gina and her daughter, Hollis, who's now living in New York City. They're the self-titled "Dream Gals," and they sing a halfway cute little ditty together.
"God bless Texas," says Kressley.
Your host, who's also a judge, is former 1995 Miss USA Shanna Moakler. She most recently washed out in Week 2 of last year's third edition of
Dancing with the Stars
.
"We're celebrating what it means to be a modern beauty, where spirit, intelligence and heart are as meaningful as a pretty face," she tells the excited contestants before they burst into the show's "Pageant House" to eat, drink and gush.
Catty-catty, snipe-snipe quickly kicks in, though. Vying with Ada and Christan for the most despicable duo are New Mexico's Andrea and Amanda, a k a "The Reigning A's."
Add a hyphen and a "hole" after the "A" and you've got somethin', ladies.
The 11 couples eventually gather at a small, nondescript theater to make first impressions before judges Kressley, Moakler and Cynthia Garrett, described as a "TV personality."
Kressley clearly will have to carry the ball here. But the best he can muster in the early going is a patently obvious riff after the "Tomboy Queens" strut their stuff.
"I identify with that name -- at least the Queen part," he says.
The first "de-sashing" proceeds limply, with judges repeating "You're safe" until a preview DVD sent to TV critics ends with two couples still hanging in the balance. They just don't trust us vermin.
Crowned
is supposed to continue for seven more weeks beyond Wednesday's premiere. Then a Jan. 30th finale will leave one triumphant couple with sashes still proudly in place. Hang in there, "Silent But Deadly."
Grade:
D
12/07/07 12:17 PM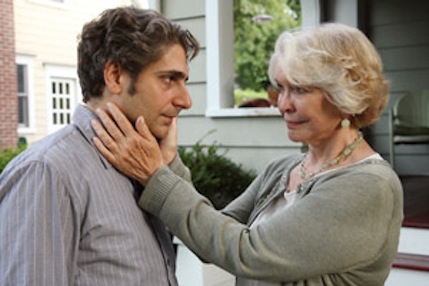 That's my boy: Ellen Burstyn tries to buck up Michael Imperioli.
By ED BARK
First off, there haven't been this many egos in a TV title since Cher managed to mention herself twice in a 1998 tribute to her late ex-husband, Sonny Bono. It went by the name of
Sonny & Me: Cher Remembers
.
ABC's
Oprah Winfrey Presents: Mitch Albom's For One More Day
is a collaboration of a best-selling author and someone who makes best-selling authors with her periodic "Book Club" pronouncements. Winfrey's enthusiastic endorsement of Barack Obama also could make her a kingmaker in the Democratic presidential race. But that book hasn't been written yet.
One More Day
-- we'll go to shorthand now -- is another of Albom's heart-tugging looks at the human condition. Premiering Sunday, Dec. 9th at 8 p.m. (central), it's also the weakest ABC adaptation of Alborn's three publishing triumphs.
The network's
Tuesdays with Morrie
, which starred the late Jack Lemmon, deservedly won an Emmy in 2000 as the season's best made-for-TV movie.
The Five People You Meet In Heaven
, with Jon Voight, premiered in 2004 to less acclaim. But it was still a worthy, inspiring film.
Michael Imperioli, who also co-starred in
Five People
, is center-stage this time as an alcohol-addled, suicidal former major league baseball player.
Chick Benetto (Imperioli), busily swirling down the drain, is first seen buying a six-pack on a stormy night. Despondent at not being invited to his daughter's wedding, he drives none-too-steadily to small-town Pepperville's little league baseball field. A car wreck impedes his progress, but a bloodied Chick makes it to the ballyard and puts a gun to his head before sighting his long-dead momma, Posey (Ellen Burstyn), wandering near the outfield grass.
This cues a relentless series of time travels to Chick's formative years, with Imperioli's son, Vadim, making his film acting debut as Chick-adee. The kid's hard-driving dad, Len (Scott Cohen), is determined to turn Chick into a star baseball player.
"You can be a momma's boy or you can be a daddy's boy," the old man lectures. "But ya can't be both. Ya got that?"
This leaves Chick pretty clenched up throughout a life that takes him all the way to the 1973 World Series as a backup catcher for the New York Mets. But a knee injury ends his ballplaying career while Chick's wayward dad slides in and out of the picture.
He's also disappointed his devoted mom (played as a younger woman by Samantha Mathis), who had wanted Chick to finish college rather than drop out to play ball. Their strained relationship gradually thaws to a breakthough, courtesy of mom's magical appearance just when Chick is at his lowest.
"What happened to you?" she asks, as if she didn't know. "Are you in any pain?"
"I haven't been so good, ma," he concedes.
Preachments abound down the homestretch of a film that means well but doesn't wear particularly well. Its ending is too abrupt, and it's no surprise at all to learn that ______ actually is ________.
The older Imperioli and Burstyn give it a good try in their scenes together. But it's not enough to redeem this transparent blend of
A Christmas Carol
and
It's A Wonderful Life
.
Instead the syrup rises to the top, making
One More Day
the gooiest and least satisfying of Albom's three sentimental journeys.
Grade:
B-minus
12/06/07 01:17 PM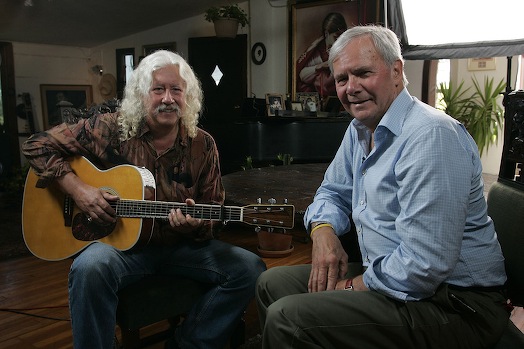 The guy on the right is Tom Brokaw. Or is it?
By ED BARK
Bruce Springsteen remembers himself as a "faux hippie." Arlo Guthrie (pictured above) now prefers the company of whiskey to pot. And Tom Brokaw learned some time ago that you can't get a two-hour documentary on a broadcast network anymore.
Pretty much retired from active duty with NBC News, Brokaw seems more than content to report
1968 (Sunday, Dec. 9 at 8 p.m. central)
for The History Channel. An offshoot of his current bestseller
Boom!
, it gives him a chance to stretch out and go the way of other broadcast news deities such as Ted Koppel and Dan Rather.
They're lately cable guys, too, and why not? Whatever you think of Rather, he's doing some of his best work ever on HDNet. Few are seeing it, but at least Rather can take comfort in knowing he can still do it. Koppel's exemplary documentaries for The Discovery Channel likewise are keeping his head held high.
Brokaw, 67, was a 28-year-old TV reporter in '68. He was also a square, man, as he readily admits.
Sporting a coat, tie and short-clipped hair, "I was the freak," Brokaw says of his long-ago visit to San Francisco's Haight-Ashbury district, then the epicenter of the counter-culture movement.
1968 just wouldn't quit when it came to stunning, epochal events.
Robert F. Kennedy and the Rev. Martin Luther King Jr. were assassinated. The Democratic National Convention in Chicago became a bloody battleground between cops and hippies. The Tet offensive in Vietnam shook America's belief in the winnability of the war. Richard Nixon was elected president. Olympians Tommie Smith and John Carlos brandished "black power" salutes while receiving their Olympic medals. The Apollo 8 astronauts orbited the moon.
Brokaw reprises it all in capable fashion, interviewing both celebrities and commoners in the process. He clearly revels in the company of Guthrie, who sings a few verses from "Alice's Restaurant" while Brokaw grins like a kid at an Xbox expo.
Springsteen tells him that the music of the 1960s is "in my body. It's in my soul. It will never leave."
He eventually met the troubadour of those times, Bob Dylan, who told him, "If there's anything I can ever do for you . . ."
"Anything you can ever do for me? It's been done," Springsteen says almost reverentially.
Other notables interviewed for
1968
include James Taylor, Tommie Smothers, Andrew Young, Michelle Phillips, Jon Stewart, Mark Rudd and former Olympic decathlon champion Rafer Johnson, who was at Robert F. Kennedy's side when assassin Sirhan Sirhan ended his life on the same night he triumphed in California's Democratic presidential primary.
Johnson belatedly wrestled the pistol from Sirhan. And on the following morning, he discovered that he still had it in his suitcoat pocket. Now that's an anecdote.
The documentary also uses the music of the times, still unequalled as a mood-setter. Nothing even remotely like 1968 has rolled this way since. It was by no means a very good year. And many who experienced it, including yours truly as a U.S. Marine, are still wondering and debating what shape it's left us in.
Grade:
B
12/03/07 11:59 AM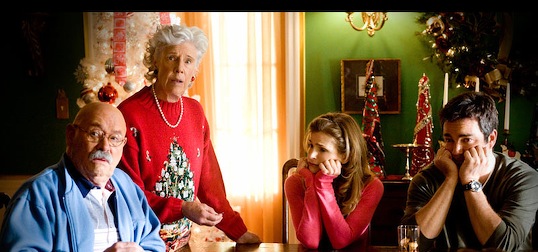 Meet the parents: The Closer does Christmas, murders included.
By ED BARK
The most-watched series in basic cable history celebrates the Christmas season Monday night by mixing a double homicide with a missing Perry Como CD.
That's the way
The Closer
rolls in a new two-hour special (7 p.m. central) saved for the holidays by TNT.
It's no small event in the cable firmament. The Sept. 10th "summer season finale" of
The Closer
drew 9.2 million viewers in breaking its old ratings record. Monday's Christmas show will be the last new episode of the series until next summer, when Season 4 is due.
Subtitled "Next of Kin,"
Closer
begins at home, with Deputy police chief Brenda Johnson (Kyra Sedgwick) none-too-happily helping to trim a Christmas tree with live-in boyfriend/FBI agent Fritz Howard (Jon Tenney). Making their place more Christmas-y is supposed to increase its sales appeal, but Johnson grouses, "I do not like it when I'm ordered to be festive."
"Just hand me the damn angel," Howard retorts before topping the tree.
A bank robbery and attendant double homicide soon intercede, complete with blood-spattered candy cane decorations at the crime scene. But the episode also is spiked with a fair amount of comedy as Johnson and Howard trail a suspect to her hometown of Atlanta.
Her parents, gruff Clay (Barry Corbin) and the very Christmas-y Willie Ray (Frances Sternhagen), had hoped that their prodigal daughter really wanted to spend an unfettered holiday with them. But that's not in the cards, and all concerned wind up in the elder Johnsons' big-as-a-house RV for a hasty trip back to L.A. with fugitive in tow. Someone's hidden Clay's beloved Como disc, though, and he understandably can't get into Christmas without it.
The episode loses some of its muscle tone in time. There's really no need to go on for as long as it does. Sedgwick's always a joy, though, even as a Grinch. And Corbin shines as brightly as his newly shaved pate. The Lamesa,Texas native and former
Northern Exposure
regular also has a key scene down the homestretch of the Coen brothers' acclaimed
No Country for Old Men
. It's good to see him gainfully employed again in worthy roles.
The Closer
ends up spooning a little Christmas sap, but just a little. For the most part it's an unconventional holiday outing, complete with closing shootout. Enjoy.
Grade:
B+