06/29/11 02:16 PM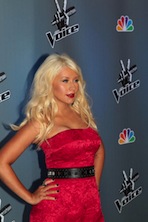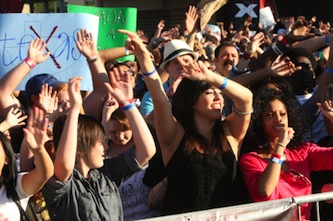 Judge Christina Aguilera busts it up for The Voice; throngs attend recent Dallas auditions for fall's The X Factor. NBC/Fox photos
By ED BARK
Thespians hate hearing this, and rightly so.
But we've probably reached the point where a scripted drama or comedy series has no realistic chance anymore to rank as prime-time's most popular attraction in either the traditional "regular" or the increasingly competitive summer TV seasons.
It hasn't happened since the 2002-'03 regular season, when CBS'
CSI: Crime Scene Investigation
finished No. 1.
Since then, from 2003-'04 on, the annual prime-time ratings champ has been Fox's
American Idol
. In the past 12 TV seasons, only two scripted series --
CSI
and NBC's
Friends
-- have been top of the heap.
Friends
reigned in 2001-'02, with ABC's
Who Wants to Be a Millionaire
and CBS'
Survivor: The Australian Outback
ranking No. 1 in the two seasons before that.
Idol
obviously is the multi-million dollar gorilla here. But it's not the only so-called "reality competition" series making a big footprint.
In the latest ratings week -- June 20-26 -- prime-time's top 5 shows were three editions of NBC's perennial summertime hit,
America's Got Talent
, and two helpings of the Peacock's new "reality competition" grabber,
The Voice
.
They also held those spots among advertiser-craved 18-to-49-year-olds while ABC pulled into sixth place in this key demographic with the premiere of its latest unscripted concoction,
Expedition Impossible
.
E I
also ranked 14th in the overall total viewer ratings. And Fox's
So You Think You Can Dance
likewise continues to be a strong summer performer, as does CBS'
Big Brother
, which returns on July 7th for its 13th edition.
Summer is only the half of it, of course.
The Voice
, which premiered in the spring, already has been renewed for midseason, where in January it will begin taking up two hours of NBC's Monday night schedule.
Another imposing "reality competition" newcomer, Fox's Simon Cowell-fueled
The X Factor
, is set for a two-night, four-hour launch on Sept. 21-22 (Wed.-Thurs.).
ABC's most popular series,
Dancing with the Stars
, will start its 13th season on Monday, Sept. 19th. And CBS'
Survivor: South Pacific
, firing up on Wednesday, Sept. 14th, will be the 23rd go-around for that reality-competition granddaddy.
All of these shows can be contracted or expanded at will, with the majority of them running on multiple nights per week. And their overall costs, despite some hefty judges' salaries, are still cheaper than most one-hour scripted dramas. They largely originate from the same sets every week after, in some cases, early audition rounds in various cities. And the amateur talent on these shows gets paid peanuts, with only
Dancing with the Stars
forking out any real money in the form of "appearance fees" to its celebrity hoofers.
The broadcast networks also are investing fairly heavily in new scripted series for the upcoming season. But none has even a scant chance of climbing to the No. 1 spot, let alone reaching prime-time's top 10 list.
It's telling that NBC's only good prime-time news in the past year has been the sudden ascendance of
The Voice
. And that the biggest tub-thumping campaign for this fall will be on behalf of
The X Factor
.
End result: scripted dramas and comedies worth watching increasingly are moving to cable networks such as FX, TNT, AMC, USA and the two long-time premium channels, HBO and Showtime. Their audiences may be a relatively small fraction of those for
Idol, Dancing with the Stars, America's Got Talent
and their ilk. But series such as
True Blood, Mad Men, Burn Notice, The Closer
and
It's Only Sunny in Philadelphia
all have solid fan bases. You just have to pay extra to see them.
Meanwhile, ABC, CBS, NBC and Fox continue to look for the next big reality competition extravaganza. It's the easiest way to hit jackpots that will keep on spewing cash. It's also harkening back to TV's formative years, when popular series such as
Arthur Godfrey's Talent Scouts
and
Ted Mack's Original Amateur Hour
sought to make stars of commoners.
Gladys Knight and Pat Boone were among
Amateur Hour
's grand prize winners. And
Talent Scouts
incubated the likes of Boone (who took a double dip), Rosemary Clooney, Tony Bennett, Roy Clark, Connie Francis and Patsy Cline.
By the way, as this is being written,
The Hollywood Reporter
has just confirmed that NBC will be bringing back host Joe Rogan and
Fear Factor
for at least eight episodes.
Another sign of the times.