12/29/16 02:38 PM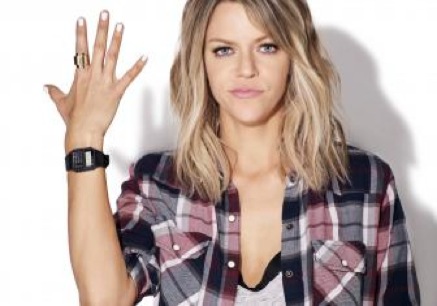 Kaitlin Olson would rather extend just a single finger in The Mick.
Fox photo
Premiering:
Sunday, Jan. 1st at 7 p.m. (central) on Fox before moving to regular Tuesday, 7:30 p.m. slot on Jan. 3rd
Starring:
Kaitlin Olson, Sofia Black D'Elia, Thomas Barbusca, Jack Stanton, Carla Jiminez, Scott MacArthur
Produced by:
John Chernin, David Chernin, Nick Frenkel, Oly Obst, Randall Einhorn, Kaitlin Olson
By ED BARK
@unclebarkycom on Twitter
ABC is filled to the brim with mom, dad and the kids sitcoms. On current-day Fox, though, they need not apply unless they're cartoons.
The network of thrown-together misfit arrangements strikes again with
The Mick
, a coarsely ground comedy both backed and fronted by alumni from
It's Always Sunny In Philadelphia
. It's bawdy and even bloody in its depiction of a lower rung Rhode Island petty thief named Mackenzie Murphy (Kaitlin Olson), who in a snap is stuck with her fugitive sister's three rich kids, two of them intensely spoiled.
Olson, who had a long run as bartender Deandra "Sweet Dee" Reynolds on
Sunny
, is well-cast as "The Mick," which in earlier times was both a fond nickname for a certain New York Yankees legend and a derogatory term for an Irish immigrant. First seen snuffing out a cigarette in a grocery store cantaloupe, she seems brassy, brazen and funny enough to keep this premise humming. Fox made four episodes available for review, with the second one whamming away the hardest. Or maybe it's the third.
Here's the deal. Mick and her slovenly best friend/sackmate Jimmy (Scott MacArthur) motor their way to her sister's Greenwich, Conn. mansion. It's been a while since she's accepted any of her sister's invites. But while the "embarrassing" Jimmy is made to wait outside, the FBI raids the place and arrests Mick's sis and her husband on fraud charges. They soon manage to flee the country while Mick is asked to be a stand-in parent to snooty teen Sabrina (Sofia Black D'Elia), her wiseass younger teen brother Chip (Thomas Barbusca) and little seven-year-old Ben (Jack Stanton), who's not yet been despoiled but is still problematic. (Yes, Barbusca is the same kid who played a cocky little Peter Pan in that oft-run Geico commercial.)
The mansion also has a Latina maid named Alba (Carla Jimenez), who's decidedly plus-sized and eager to have an ad hoc friend in Mick. She eventually becomes more than window-dressing, emerging as an important comedic character. Can the two of them tame those wild beast kids? And are all those creature comforts an acceptable trade-off?
Episode 2 is especially dicey in terms of "adult" humor. After Mick and Alba leave in disgust, the three kids are left at the mercy of a demonic grandma and her stroked-out husband, a war hero known as "The Colonel" who's now slack-jawed and silent in a wheelchair. Sabrina is determined to outwit her elderly adversary, particularly after taking three slaps to the chops in return for sassing her. But an attempt to drug grandma's breakfast coffee goes very bad.
"You ruined my blouse, you wrinkly bitch!" Sabrina exclaims after being soaked with the hot contents.
"Your blouse was ruined by your inability to fill it out," grandma retorts. Well-played, but parents be forewarned. This comedy is not for younger kids, even though it airs at an early hour. Mick and Alba on hallucinogenic drugs at a club might also prompt some questions that parents would just as soon not answer.
Episode 3 includes a birthday party appearance by Sully the Clown, who is anything but unsullied. And the fourth half-hour, subtitled "The Condom," finds Sabrina loudly exercising her bed springs with a hunky carpenter named Kai (Andy Favreau). "That guy is a hall of fame piece of ass," Mick concedes. But at least protect yourself, she counsels Sabrina. Things escalate from there.
Although a "traditional" family structure is missing,
The Mick
is a like-minded descendant of Fox's very first comedy hit,
Married . . . With Children
. The Bundys -- mom, dad and their two kids -- fractiously lived together in the same house. But the show's controversial content otherwise blew the roof off, and Fox has never really stopped looking back.
Thirty TV seasons later,
The Mick
barges into view with little or no sense of propriety. Two of its characters even take notably bloody beatings while the verbal slings and arrows also keep punching through. You may not laugh until it hurts, but there are some laughs to be had. Particularly for those who also swear by
Family Guy
.
GRADE:
B-minus
Email comments or questions to:
unclebarky@verizon.net