01/03/19 12:10 PM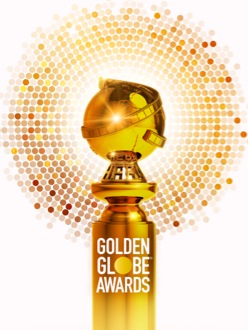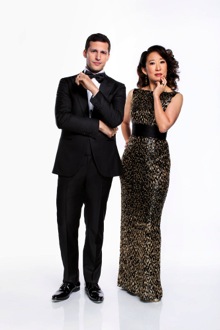 Andy Samberg & Sandra Oh are the latest hosts. NBC photo
By ED BARK
@unclebarkycom on Twitter
Here come the 76th annual Golden Globes, whose mysterious group of 90-some Hollywood Foreign Press Association members somehow have stood the test of time and taunting.
NBC reclaimed the awards in 1996 after ceding them to TBS. A few years later, Hollywood correspondent Aljean Harmetz wrote in the
Los Angeles Times
that the Globes had become more or less "respectable" after "years of being ridiculed as a bunch of part-time journalists and full-time freeloaders who would sell their votes for a vodka tonic and cross the Alps for a hot dog."
But as recently as 2014, actor Gary Oldman slammed the Globes anew as a "meaningless event" sponsored by "90 nobodies having a wank. Everybody's getting drunk, and everybody's sucking up to everybody. Boycott the f***ing thing. Just say we're not going to play this silly game with you anymore."
Then came the January 2018 ceremony, in which Oldman won a Globe for his portrayal of Winston Churchill in
Darkest Hour
. He showed up, accepted his trophy with gratitude and made no reference to his previous call for a boycott. Plus, he'll be a presenter during the Sunday, Jan. 6th ceremony on NBC. Funny how that works.
The latest Globes will be co-hosted by Andy Samberg and Sandra Oh, who's also a nominee for her role in BBC America's
Killing Eve
. Last year's telecast drew 19 million viewers, a bit less than the 19.8 million for CBS' Grammy Awards. But NBC's not complaining, and maybe we also should ease up on the criticism. Because in recent years, this small band of HFPA voters has made some pretty informed choices in the TV and streaming network categories despite a continued proliferation of product that makes it almost impossible to winnow these fields down to five nominees apiece.
All five drama series finalists are worthy. The aforementioned
Killing Eve
is joined by FX's
The Americans
and
Pose
, Amazon Prime's
Homecoming
and Netflix's
Bodyguard
. My preference is
The Americans
, which had an engrossing final season capped by a satisfying finale. Principal stars Keri Russell and Matthew Rhys are also nominated in the drama series acting categories. I'd love to see a sweep, although Russell has a tougher road against both Oh and Julia Roberts, who starred and excelled in Amazon's
Homecoming
.
The Globes' quintet of musical or comedy series nominees also is solid. NBC's
The Good Place
, lone interloper from the Big Four broadcast networks, will go against HBO's
Barry
(an Emmy darling in September), Amazon's
The Marvelous Mrs. Maisel
, Showtime's
Kidding
and Netflix's
The Kominsky Method
. I'm torn between
Kidding
and
Mrs. Maisel
, which likewise had a big Emmy haul.
The toughest category to win arguably is for best performance by an actor in a musical or comedy series. Jim Carrey, who gave his best performance in years as the Mr. Rogers-like star of
Kidding
, squares off against Bill Hader (who the Emmy for
Barry
), Michael Douglas of
The Kominsky Method
, Donald Glover of FX's
Atlanta
and Sacha Baron Cohen of Showtime's
Who Is America?
I hope Carrey at long last wins. He's deserving, and his acceptance alone should be an event in itself.
Let's telescope one more category -- "Best Television Limited Series or Motion Picture Made for Television." The finalists are Amazon's
A Very English Scandal
, FX's
The Assassination of Gianni Versace: American Crime Story
, HBO's
Sharp Objects
, Showtime's
Escape at Dannemora
and TNT's
The Alienist
.
Assassination of Gianni Versace
looks like the likely winner here, but
A Very English Scandal
(with terrific performances by Hugh Grant and Ben Whishaw) could pull off a surprise. Just please don't give it to
Sharp Objects
, which had a big thud of an abrupt ending.
Others I'd like to see win: Alan Arkin for
Kominsky Method
, Patricia Arquette for
Escape at Dannemora
, Rachel Brosnahan for
Mrs. Maisel
and Alex Borstein, also for
Mrs. Maisel
. (The latter two already have Emmys for their performances as Miriam "Midge" Maisel and Susie Myerson.)
Whatever the outcomes or alcohol-infused spectacles, these latest Golden Globes again will attract the biggest star-studded crowd of the awards season with its blend of both TV/streaming and feature film nominees. There's no reason to boycott them anymore. And as Oldman showed last year, such talk is cheap anyway.
Email comments or questions to:
unclebarky@verizon.net
01/02/19 03:33 PM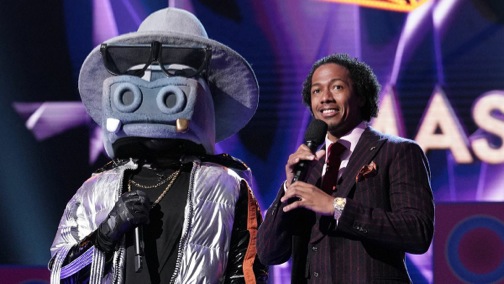 "Hippo" and host Nick Cannon on The Masked Singer. Fox photo
Premiering:
Wednesday, Jan. 2nd at 8 p.m. (central) on Fox
Starring:
Host Nick Cannon, judges Robin Thicke, Jenny McCarthy, Nicole Scherzinger, Ken Jeong and 12 disguised "celebrity" singers
Produced by:
Craig Plestis, Izzie Pick Ibarra
By ED BARK
@unclebarkycom on Twitter
A prohibitive favorite for worst new TV show of the year didn't take long to assume that position.
Still, Fox's heavy promotion of
The Masked Singer
likely assures a substantial audience of curious voyeurs, at least for Wednesday's first of 10 scheduled episodes.
Your host is Nick Cannon, who's taking a deep plunge from his eight years as the front man for NBC's
America's Got Talent
, which he left in 2017 over creative differences. Career planning may not be his strong point.
Masked Singer
puts Cannon in proximity to four well-traveled judges -- Robin Thicke, Jenny McCarthy, Nicole Scherzinger, Ken Jeong -- and a dozen purportedly big names disguised in garish costumes. All 12 are trotted out in the first two episodes made available for review. But Fox didn't trust critics enough to reveal who's behind the masks -- at the rate of one unveiling per show until the homestretch. Instead it's all a big bleep and blur, although also a safe bet that you've seen many of these almost sure to be C-listers traipsing through other "reality-competition" concoctions. For the record, though, former Emmy and Grammy nominees are promised, as well as an athlete or two.
The premiere hour's first face-off is between Peacock and Hippo. Beholding the Peacock, judge McCarthy follows the script by exclaiming, "Oh my God, this is better than I ever thought!"
Peacock lip syncs the theme to
The Greatest Showman
before Hippo counters with "My Prerogative" by Bobby Brown. Preceding videos are supposed to provide clues, with Peacock touting the late Michael Jackson as a "dear friend."
The judges' guesses of who might be behind these masks tend to be preposterously out of the question. Some are meant as jokes, such as Barack Obama and Ruth Bader Ginsburg. Otherwise, the names dropped for real during the first two episodes include Hugh Jackman, Jimmy Kimmel, Odell Beckham Jr., Lady Gaga, Justin Bieber, Justin Timberlake, Jake Gyllenhaal, Matthew McConaughey and Adam Sandler. None of them are ready just yet to slum it this hard. Better to lower one's expectations several notches to the likes of MC Hammer, Ricki Lake, Rob Schneider, Jaleel White or Richard Simmons. Not that I know anything.
Simmons' name actually does come up, with Thicke saying of Poodle, "I want it to be Richard Simmons so hard." Easy, boy. This pronouncement comes just after McCarthy "ad libs" (yeah, sure): "We can't make heads or tails of who it is." The studio audience roars with laughter.
By the end of each show, three of the costumed competitors have been voted the least favorite to continue by verdict of the judges and that aforementioned rabid studio audience. One is then unmasked and sent home. That's gotta be a real walk of shame.
Cannon, who perhaps needs to be shot out of one to regain his senses, raves about a "monster performance" from the costumed Monster in his sing-off against Unicorn. Jeong can't contain himself either, falling hard for the curvy Alien in Episode 2 after praising Rabbit for being "very, very in character. He's like the Daniel Day Lewis of bunnies."
Which perhaps makes
Masked Singer
the
I'm a Celebrity . . . Get Me Out of Here!
of reality-competitions shows. Or is that holding it to way too high of a standard? Probably so.
GRADE:
F
Email comments or questions to:
unclebarky@verizon.net