05/26/16 08:53 AM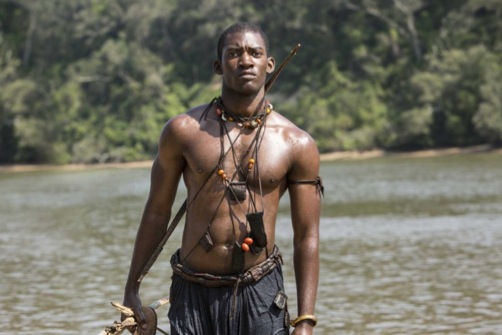 Newcomer Malachi Kirby is the new Kunta Kinte. History network photo
By ED BARK
@unclebarkycom on Twitter
No scripted television drama -- before or since -- has hit home harder than the original
Roots
.
Initially viewed by ABC as a noble but highly risky enterprise that almost assuredly would be an audience turnoff, the 1977 version ran for 12 hours over eight consecutive nights. It climaxed on January 30th, just before the pivotal midseason February "sweeps" ratings period began in earnest. That was intentional. ABC wanted to be done with
Roots
before it potentially could do any real ratings damage. Instead the two-hour finale, on Sunday night, Jan. 30th of that year, commanded an astounding 71.1% of all television sets in use while drawing over 100 million same-night viewers.
Roots
as a whole received 37 Emmy nominations, many of them multiple nods in the same categories. It ended up winning nine awards, including for "Best Limited Series" and for acting by Louis Gossett, Jr., Olivia Cole and Ed Asner.
So why remake it via a four-part, eight-hour production that premieres on
Memorial Day and continues Tuesday through Thursday at 8 p.m. (central) on History, Lifetime and A&E
?
The official talking point, on the part of producers, is that the original
Roots
has grown dated and doesn't "speak to" the many younger viewers who were born after it first aired. They supposedly want something more dynamic and relevant -- in addition to more action and visceral violence. ABC's sequel to
Roots
was subtitled
The Next Generation
. The remake essentially is
Roots: The New Generation
, with original maestro David L. Wolper's son, Mark, at the helm along with LeVar Burton (the original Kunta Kinte) among others.
The soundtrack for the original
Roots
indeed can be positively creaky at times. As is the conveyor belt of familiar old-line white TV actors brought in to give America at large a sense of comfort -- even in the roles of white devils. The likes of Lorne "
Bonanza
" Greene, Chuck "
The Rifleman
" Connors and Ralph "
The Waltons
" Waite all played abusers while Asner (
Lou Grant
) got off easy as a slave ship captain who had a crisis of conscience that wasn't depicted in the Alex Haley book.
Still, the old
Roots
remains replete with scenes of considerable emotional power. They're also played out at length rather than hurried along, whether it's Chicken George (Ben Vereen) poignantly trying to explain himself to his long-suffering mother, Kizzy (Leslie Uggams), or Kunta Kinte a k a "Toby" (John Amos) and his wife, Belle (Madge Sinclair), begging their master not to sell Kizzy off.
The original
Roots
also has a scene in which Kizzy hopes to be reunited with her parents, but instead learns that her father died two years earlier after Belle was sold off. Kizzy's scene at her father's spare grave provides a sense of closure that's missing from the new
Roots
, in which Kunta Kinte (invigorating newcomer Malachi Kirby) and Belle (Emayatzy Corinealdi) simply disappear after Tuesday's Part 2. In contrast, the 1977
Roots
has Kizzy scratching out "Toby" and etching "Kunta Kinte" on the stone over his final resting place. Upon further review in preparation for this review, the scene still resonates.
Both versions begin in Kunta Kinte's homeland of Juffure, West Africa, circa 1750. Family dynamics and young Kunta's road to becoming a Mandinka warrior are more fully fleshed out in the new
Roots
. But he's still destined to be sold by his father's African enemies to an English slave ship. The onboard conditions en route to 1767 Annapolis, Maryland are unsparingly brutal. As are all of the English captors, who spout lines such as "Don't look at me, monkey" and "A dead nigger is money lost."
Kunta Kinte eventually is taken to the Waller farm in Virginia, where the supplicant slave Fiddler (an effectively nuanced performance by Forest Whitaker) is ordered to groom the newcomer. James Purefoy, who played the sadistic villain in Fox's
The Following
, is back for another go as despotic farm owner John Waller.
The indelible flogging of Kunta Kinte occurs near the end of Monday night's opening chapter. It's far more brutal than the original terrifying scene, with Kunta repeatedly defying orders to "say your name so you know who you are!" He eventually murmurs "Toby" before Fiddler kneels over him and tries to begin a healing process.
Part Two jumps ahead to 1782 and the Revolutionary War. Kunta is on the lam again and initially duped into fighting for the British Redcoats, who are promising freedom in the end. But the slaves instead are used as cannon fodder (none of this was in the original
Roots
) before Kunta wises up, rebels and later is recaptured. The severing of a portion of his foot jibes with another chilling scene in the original
Roots
.
Throughout the drama, the filmmakers flash back to dream-like scenes in Africa, with Kunta steadfastly avowing his heritage and determination to be free. But the tragedies and indignities keep piling up. "I hate this country!" Kunta exclaims. "America will never be my home!"
Kizzy's eventual betrayal, in the eyes of her masters at least, leads to her being sold to another despot, North Carolinian Tom Lea (an effective Jonathan Rhys Meyers in place of the original's almost cartoonish Chuck Connors). He immediately rapes Kizzy, who births George (Rege-Jean Page) as a result. By the early moments of Part 3, the story has jumped to 1828, with George dubbed "Chicken George" for his skills in training them to be formidable cock fighters who help to line Tom Lea's pockets.
Unlike the original
Roots
, Kizzy falls in love with a freed former slave rather than a still groveling fast talker who was played by Richard Roundtree. In either case, heartbreak is still around the corner, for both Kizzy and the ultimately betrayed Chicken George.
The climactic Part 4 incorporates scenes from the Civil War's Fort Pillow massacre, in which surrendering black soldiers within a white Union regiment are slaughtered by Rebel troops because of their color. Chicken George (who barely looks a day older) finds himself in the midst of all this while back at the plantation a thoroughly evil slave holder named Frederick (Lane Garrison) is holding fast to his venomous ways. Anna Pacquin, as Nancy Holt, is worked in rather awkwardly as a white plantation spy. This is easily the weakest of the four parts, although the new
Roots
does end more powerfully than the original with Haley's (Laurence Fishburne) walk through the history of what he's written. The real-life Haley presided matter-of-factly, and rather flatly, through the closing minute of the original.
The re-imagined
Roots
indisputably has its moments, but not as many of them as its still very compelling predecessor. But virtually anything of note is fated to get a makeover in times when hundreds upon hundreds more networks and streaming outlets vie for attention. The History network, in on-air partnership with Lifetime and A&E, has brought forth a
Roots
that stands tall on its own, but without surpassing the production that once gripped a nation and should still be seen by viewers of all ages. It brought a wealth of African-American performers to prime-time's front lines. Almost 40 years later, that's still a history well worth remembering and re-appreciating.
GRADE:
B+
Email comments or questions to:
unclebarky@verizon.net