09/29/10 10:53 AM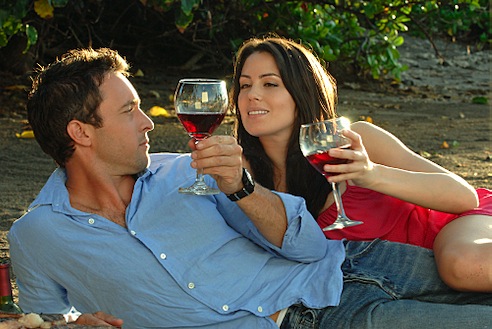 The new Steve McGarrett toasts his network's success. CBS photo
By ED BARK
CBS landed all five of its new series in prime-time's top 25 last week, crunching its three principal rivals in impressive fashion.
NBC also showed some signs of life after last fall's Jay Leno debacle while ABC and Fox both suffered significant audience losses from last year's premiere week totals, according to data from Nielsen Media Research.
CBS likewise pleased its local owned and affiliated stations by winning the 9 p.m. (central) time slot with each of its weekday crime dramas. That's another nice lead-in gift for late night local newscasts from a network that continues to take good care of its children.
Overall, CBS averaged 12.5 million viewers in Week 1 (Sept. 20-26), up from 11.8 million a year ago. ABC ran second with 9.6 million viewers, a sharp downturn from 11.05 million in the first week of the 2009-10 season.
NBC slipped into third place with 8.2 million viewers, up from the previous year's 7.6 million. Fox ran fourth with 6.5 million, a drop from 7.4 million.
CBS and NBC also registered year-to-year increases in advertiser-coveted 18-to-49-year-olds, respectively finishing first and second in that key measurement. ABC and Fox each were down 700,000 viewers in this age range.
Hawaii Five-0
, CBS' heavily promoted "re-imagining" of the original, was the most-watched new series of premiere week, ranking 11th with 14.2 million total viewers. CBS also had the next four top-rated newcomers in
Blue Bloods
(17th with 13 million viewers);
$#*! My Dad Says
(20th with 12.6 million);
Mike & Molly
(22nd with 12.2 million) and
The Defenders
(23rd with 12.1 million).
Only one other new series, NBC's
The Event
, landed in prime-time's Top 30. It finished in 27th place with 10.9 million viewers.
On the down side, Fox's made-in-North Texas
Lone Star
, canceled Tuesday after just two episodes, had a rock-bottom opening night haul of 4.1 million viewers to rank 88th for the week.
Other new series with likely short-term futures include ABC's
The Whole Truth
(79th with 4.8 million viewers); NBC's
Outlaw
(78th with 4.9 million) and ABC's
My Generation
(73rd with 5.2 million).
Fox's Dallas-made
The Good Guys
, which had a summer run, returned with toe tags attached in a new Friday night slot. The serio-comic cop show had just 2.8 million viewers to rank 108th for the week.
Fox's biggest bright spot,
Glee
, ranked 21st in total viewers but jumped to the No. 2 spot with 18-to-49-year-olds, behind only NBC's
Sunday Night Football
.
ABC's home run hitter,
Dancing with the Stars
ranked first and third in total viewers with its performance and results shows. It dropped a bit -- to fifth and 10th -- in the 18-to-49 demographic.
CBS traditionally struggles with 18-to-49-year-olds. But not so much this time. It had eight of the top 20 shows, paced by
The Big Bang Theory
and
Two and a Half Men
in a seventh place tie. Selleck's
Blue Bloods
showed its age, though, falling from 17th in total viewers to 59th among 18-to-49-year-olds.
In contrast, Fox's one-hour season premiere of
Family Guy
ranked ninth with 18-to-49-year-olds, but only 36th in total viewers.
Also in premiere week, Univision averaged 4 million viewers, with 2.1 million of them in the 18-to-49 age range. Both totals were up from a year ago.
The CW ranked 6th with 2.5 million viewers (1.5 million of them 18-to-49-year-olds). Those also were better showings than last September's premiere week.
NBC Universal-owned Telemundo continues to trail Univision by wide margins in the Spanish language programming universe. In fact it's getting worse. Telemundo's averages of 680,000 total viewers and 370,000 in the 18-to-49 range were both sharply down from a year ago.
In the cable arena, ESPN's
Monday Night Football
game between the Saints and 49ers averaged 15.1 million total viewers to easily rank at the top of the heap. That would put it seventh among all programs, between CBS'
The Mentalist
and the same network's
CSI: Crime Scene Investigation
.
MTV's
Jersey Shore 2
, cable's No. 2 attraction of the week, had 6 million viewers. That would be good for a 58th place tie with Fox's
Hell's Kitchen
.