02/27/09 12:26 PM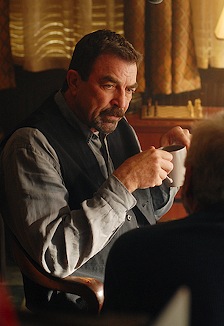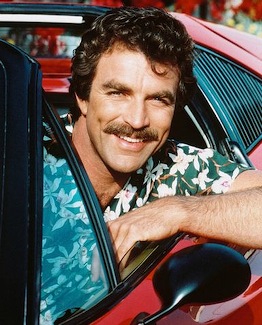 Now and then: Tom Selleck as Jesse Stone, Thomas Magnum.
By ED BARK
It's been a while -- 29 TV seasons -- since Tom Selleck first cavorted in a red Ferrari and various Hawaiian shirts on CBS'
Magnum, P.I.
.
Gradually transitioning from a roguish cut of prime beef to weightier parts, he even improbably played Gen. Dwight D. Eisenhower in 2004's
Ike: Countdown to D-Day
. Damned if he didn't fit the part and pretty much play the hell out of it.
Selleck, now 64, has found a new TV franchise in his semi-autumn years. He'll be playing gruff, hard-drinking, dog-loving police chief Jesse Stone for the fifth time Sunday (March 1st), in CBS'
Jesse Stone: Thin Ice
(
8 p.m. central
). Just add a little graying chin hair to his always well-worn mustache.
Filmed in Halifax, Nova Scotia -- which stands in for Paradise, Mass. -- and drawn from the Robert B. Parker crime novels, this latest Stone movie is cut from the same sturdy cloth as the others. The dialogue is crisp, and often witty. And the crime-solving is conducted at a leisurely if not lumbering pace, with Stone still capable of decking or strong-arming a bad guy when necessary.
In this latest two-hour chapter, police chief Stone also is facing the long arm of the Paradise mayor and town council. They'd much rather see him increase revenues by writing parking tickets and masterminding speed traps. Instead Stone gets involved in an out-of-town scrape that might reflect badly on their little burg. This is after he's already run off a deputy whom one councilman lauds as "the Babe Ruth of parking tickets."
Stone of course doesn't care what any of 'em think. So he's determined to find out who critically wounded his longtime Boston pal, Captain Healy (Steven McHattie), while they were staking out something or other on a dark and decidedly stormy night.
The two-hour movie also features Camryn Manheim as Elizabeth Blue. She's convinced that her son is still alive after a 2000 kidnapping from the hospital where she delivered him. It was dubbed by the media as the "Little Boy Blue" case until the decayed remains of little Eric were found, complete with an identifying hospital wrist band.
But a distraught Elizabeth recently received a letter with a Paradise postmark that read, "Your child is loved." So she journeys to Stone's bailiwick to beg him for help. He initially plays hard to get. But the subplot thickens.
Thin Ice
also re-gathers several veterans of the Stone movies, including Kathy Baker as deputy Rose Gammon, William Devane ( Stone's psychiatrist, Dr. Dix) and William Sadler (Boston mobster Gino Fish).
Leslie Hope, who played Jack Bauer's murdered wife, Teri, on the first season of
24
, drops in for a few scenes as a taut-talking internal affairs investigator who of course is not immune to Stone's rough-hewn charms.
Also, let's not overlook our hero's trusty dog, Boomer, stoically played by a Golden Retriever/Setter mix named Joe. He's Stone's tried-and-true drinking buddy, even though he doesn't imbibe. Still, Boomer's steady gazes speak volumes, so much so that his master occasionally growls, "What're you lookin' at?" Squint and you might see Mickey Rourke.
All of these staple Stone ingredients make for another enjoyable whodunit, even if this film is only middling compared to some of the others.
Its ending seems to imply the end of the road for an enduring TV movie franchise in times when there aren't any others and haven't been for some time. No immediate worries, though. A sixth film in the series,
Jesse Stone: No Remorse
, is currently in production.
That's good news for those of us who still look forward to hearing Selleck deadpan, "Fighting crime," whenever his character is asked, "Where you been?"
Acting-wise, Selleck has never been better. So if you've never been Stoned . . .
GRADE:
B+