11/29/17 10:38 AM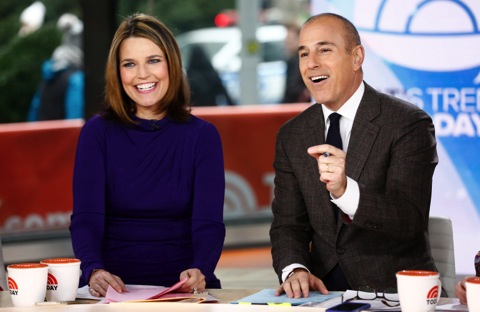 Savannah Guthrie haltingly broke the news of Matt Lauer's firing on Wednesday's Today after charges by a so far unnamed staffer of "inappropriate sexual behavior" in the workplace. NBC photo
By ED BARK
@unclebarkycom on Twitter
Millions of Americans have had a longtime habit of waking up to Matt Lauer in the mornings.
Waking up to news of his firing Wednesday no doubt caused many to spew their coffee.
Lauer is the latest, and arguably the biggest star to date, to be abruptly and ingloriously dismissed for alleged "inappropriate sexual behavior." And as with
CBS This Morning
anchor Charlie Rose, it was left to his women co-anchors to announce the news on air while also trying to grapple with it.
Savannah Guthrie and Hoda Kotb, hastily deployed to join her, handled this gut-wrenching task with grace and class. Norah O'Donnell and Gayle King did likewise earlier this month while breaking the news that Rose was out.
The New York Times
, whose bombshell expose on kingpin Hollywood producer Harvey Weinstein continues to have a seismic ripple effect, had a
story in motion on Lauer
before NBC News president Andrew Luck preemptively dismissed him.
In a memo to NBC News staffers published by
The Times
, Lack said, "On Monday night, we received a detailed complaint from a colleague about inappropriate sexual behavior in the workplace by Matt Lauer." The allegations "represented, after serious review, a clear violation of our company's standards," Lack said. "As a result, we've decided to terminate his employment. While it is the first complaint about his behavior in over 20 years he's been at NBC News, we were also presented with reason to believe this may not have been an isolated incident."
The Times
had met with the same woman earlier Monday, according to its story. She has not yet identified herself. Lauer previously had a much-publicized spat with former
Today
colleague Ann Curry and also was regularly rumored, mainly in the tabloids, to be in midst of alleged extramarital affairs. But until now, he had never been accused of being a sexual predator.
(Curry, whose new PBS series
We'll Meet Again
, premieres on Jan. 23rd,
told People magazine
Wednesday that she's still "processing" Lauer's firing. "I admire the women who have been willing to speak up both anonymously and on the record," she added. "Those women need to keep their jobs, and all women need to be able to work, to be able to thrive, without fear.")
Guthrie, who became Lauer's co-anchor on
Today
in July 2012, read Lack's statement to viewers before adding in part (with Kotb by her side), "For the moment, all we can say is that we are heartbroken. I am heartbroken for Matt. He is my dear, dear friend and my partner and he is beloved by many, many people here. And I'm heartbroken for the brave colleague who came forward to tell her story and any other women who have their own stories to tell. And we are grappling with a dilemma that so many people have faced these past few weeks: How do you reconcile your love for someone with the revelation that they have behaved badly? And I don't know the answer to that."
Lauer, who has co-anchored
Today
since January 1997 after three years as the program's resident news reader, so far has not issued any public comment on the allegations or his abrupt dismissal. But is his career nonetheless over? Very likely so.
It's one thing for NBC News anchor Brian Williams to go into limbo for several months after "mis-remembering" his participation in some major news events. After being embarrassed and ridiculed, Williams since has rebounded and is back where he started, at MSNBC.
But sexual harassment, particularly in the workplace, is and should be a deal breaker. Such allegations against Rose, Bill O'Reilly, Kevin Spacey, Louis C.K., Jeffrey Tambor, Mark Halperin and Roger Ailes (the since deceased founder of the Fox News Channel) all have led to their dismissals from the programs and networks that lately had fueled their careers. And former
Saturday Night Live
star Al Franken has made a series of apologies for his misconduct in hopes of holding on to his U.S. Senate seat.
Even Billy Bush, who chortled along with Donald Trump in that now infamous and sexually charged
Access Hollywood
tape, has gone into total eclipse since it was first publicized in October 2016. At the time he also had been part of the
Today
"family" and even a possible heir to Lauer.
Trump remains standing -- and ever-defiant as president of the United States. Dozens of woman have accused him of inappropriate sexual behavior during his days at NBC as both host of
The Apprentice
and owner of beauty pageants formerly televised by the network. On the 2005
Access Hollywood
tape, he told Bush, "You know, I'm automatically attracted to beautiful -- I just start kissing them. It's like a magnet. Just kiss. I don't even wait. And when you're a star, they let you do it. You can do anything."
"Whatever you want," Bush agreed.
"Grab' em by the pussy. You can do anything," Trump replied.
Candidate Trump made the exceedingly rare move, for him, of videotaping an apology. "Anyone who knows me knows these words don't reflect who I am," he said. "I said it, I was wrong, and I apologize."
But in recent days, as President and in light of his defense of embattled Alabama senate candidate Roy Moore, Trump reportedly has questioned whether in fact the voice on the tape is really his. Yes, you heard that right.
Trump was quick to pounce, via Twitter of course, when the Lauer news broke.
"Wow, Matt Lauer was just fired from NBC for 'inappropriate sexual behavior in the workplace' " he tweeted. "But when will the top executives at NBC & Comcast be fired for putting out so much fake News. Check out Andy Lack's past!"
Trump also called for "terminating" both MSNBC president Phil Griffin and
Morning Joe
host Joe Scarborough for "low ratings" and the "unsolved mystery that took place in Florida years ago. Investigate!"
For the record, Lack has never been accused of any sexual misconduct and the "unsolved mystery" apparently refers to a Scarborough intern's death from what were determined to be natural causes.
But Trump's beat goes on while Lauer is the latest to be summarily fired and immediately disgraced. And as a sub-head later Wednesday morning, former longtime
Prairie Home Companion
host Garrison Keillor was dumped by Minnesota Public Radio for a single instance of undisclosed "inappropriate behavior."
Keillor, who produces
The Writer's Almanac
for Minnesota Public Radio,
told the Minneapolis Star Tribune
Wednesday that he was axed after "I put my hand on a woman's bare back. I meant to pat her on the back after she told me about her unhappiness and her shirt was open and my hand went up it about six inches. She recoiled. I apologized. I sent her an email of apology later and she replied that she had forgiven me and not to think about it. We were friends. We continued to be friendly right up until her lawyer called."
Keillor also noted that he was "the least physically affectionate person in the building. Actors hug, musicians hug, people were embracing every Saturday night left and right, and I stood off in the corner like a stone statue. If I had a dollar for every woman who asked to take a selfie with me and who slipped an arm around me and let it drift down below the belt line, I'd have at least a hundred dollars. So this is poetic irony of a high order. But I'm just fine. I had a good, long run and am grateful for it and for everything else."
There are a lot of "stone statues" in the TV and movie business these days, with many stars likely petrified at the thought that they'll be the next to see their careers blow up. Many no doubt greatly deserve such a fate while some -- perhaps Keillor -- are largely caught up in a tidal wave of retribution.
It's a tough, delicate subject to write about, let alone keep current on. Lauer and, tangentially, Keillor, are just the latest but certainly not the last, to fall. Who's next in line?
Email comments or questions to:
unclebarky@verizon.net