07/26/15 02:16 PM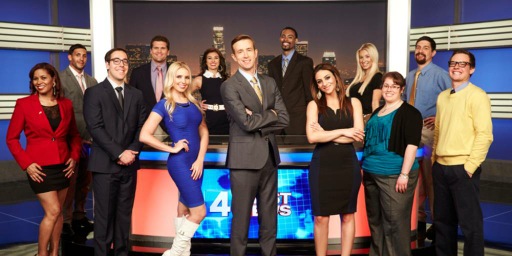 Matt Oberg (middle) hosts America's Next Weatherman. TBS photo
Premiering:
Saturday, Aug. 8th at 10 p.m. (central) on TBS
Hosted by:
Matt Oberg, with 12 contestants trying to put themselves on the map
Produced by:
Mark Burnett, Dean Houser, Mike Farah, Joe Ferrell
By ED BARK
@unclebarkycom on Twitter
Technically the full title is
Funny or Die Presents America's Next Weatherman
. So maybe at least some of the show's 12 contestants are salaried comedians doing bits rather than actually aspiring to win $100,000 and a guest shot on CNN's early morning
New Day
.
Not that the "reality competition" genre isn't already well-stocked with nut cases, whether it's
Survivor
or
The Bachelor
or
Big Brother
. But even by those "standards," a would-be pastor named Drew is not to be fully believed during the course of the Saturday, Aug. 8th premiere. There will be eight one-hour episodes in all.
Your host is Matt Oberg, who most recently co-starred in FX's since canceled
The Comedians
as a head writer named Mitch Reed. Oberg attempts to bring a serio-comic sensibility to
America's Next Weatherman
, goofing on both himself and the 12 wanna be's under his supervision. But like any television temperature-taker, he's hit and miss in this respect before climactically scoring with what will be the show's trademark kiss-off of weekly evictees.
The entire enterprise is cloudy with a chance of meatheads. The aforementioned Drew is front and center, but a sculpted, tattooed poser named Frank has his moments. As does self-styled "weather nerd" Jeff, who says, "Deep down I'm that Category 5 hurricane. And I'm coming for you guys."
Hopefuls are equally split between men and women. A former Miss Ohio named MacKenzie makes a quick impression with her dummy, Roxie. Peripheral "TV host" Jenn showcases her principal weathercasting skills by jogging along the beach. Her endowments are enough to obscure a good portion of Texas on any standard-sized TV weather map. Many viewers might consider that an acceptable tradeoff.
The initial "Skill Drill" requires all 12 contestants to hold microphones to their mouths while it snows and then rains on them. Coffee mugs are added to increase the weight of the mike and mike stand until a lone survivor wins an immunity-guaranteeing "Press Pass" but not an AMS Seal of Approval.
Retired Los Angeles weather legend Johnny Mountain and former Fox NFL pre-game show temperature-taken Jillian Barber later are introduced as judges or something. They're around for the "Wall O' Weather" competition between Red and Blue Teams. It requires a passing knowledge of geography, with teams required to affix the correct weather icon on the right locale.
Oberg, after returning from a "Confessional" in which he questions his hosting abilities, gets back into the flow nicely by challenging contestants with, "This city sounds like it was named after a plumber with low-riding pants. It's 77 degrees with fog in Caracas, Venezuela."
This particular competition goes on too long, though, even though it's cut short by one team winning decisively. Then it's on to the closing forecast vs. forecast segment between two undesirables nominated by their respective teams. But uh-oh, the TelePrompTer's rigged. And what the hoo-hah, one of the contestants then stuns the host and everyone else by just . . .
As has been written a number of times in these spaces, weathercasters have become the MVPs of local TV news operations across the land. So whoever wins this thing -- and then appears on CNN's
New Day
-- could well be hired by a station looking to capitalize on the attendant free publicity.
The show itself gets only a semi-promising forecast. It's kind of all over the map for starters, with the funny business sometimes peeking through the clouds while also hiding behind them.
GRADE:
C+
Email comments or questions to:
unclebarky@verizon.net