11/27/13 12:13 PM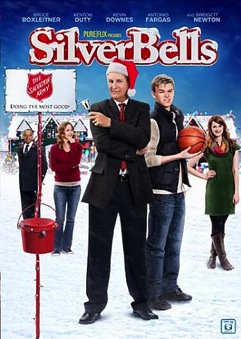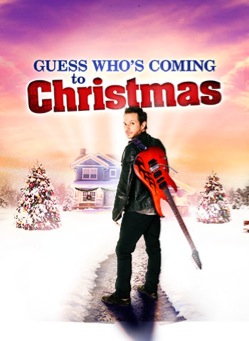 Bruce Boxleitner & Drew Lachey star in new Christmas films. UP photos
By ED BARK
@unclebarkycom on Twitter
'Tis the season for networks large and small to jockey for position as TV's foremost spreaders of holiday cheer.
And of course they spread it on thick.
As previously detailed, The Hallmark Channel, Lifetime and ABC Family all began
their big Christmas pushes
well before Thanksgiving. But the fledgling UP network (formerly GMC/the Gospel Music Channel) is here to tell you that it's "America's Christmas Channel." So let's go rogue here by getting a little sloppily sentimental about two new holiday movies that underscore UP's mission statement of providing "uplifting family entertainment."
Silver Bells
stars Bruce Boxleitner and premieres on
Sunday, Dec. 1st at 6 p.m. (central)
.
Guess Who's Coming to Christmas
, featuring Drew Lachey, arrives on
Sunday, Dec. 8th at the same time.
UP sent both of them in a colorful little bow-fastened package. And hark the herald angels sing, I found them to be not only watchable but quite affecting down the stretch. TV criticism doesn't live by
Breaking Bad
and
Sons of Anarchy
alone. Once in a great while it can be cathartic to give the anti-hero genre a little rest and succumb to some unabashed feel-good slush. Er, entertainment.
Here's what's unique about these two movies, though. Both have a strong faith-based religious message without getting all Bible-thumpy about it.
In
Silver Bells
, the durable Boxleitner plays hyper-competitive, vainglorious local TV sports anchor Bruce Dalt, whose on- and off-air slogan is "For the win." He's taken off the air and sentenced to community service -- as a Salvation Army bell-ringer outside a K Mart -- after bullying a referee at his son's high school basketball game. Dalt's new boss is Salvation Army Major Melvin Lowell (Antonio Fargas), who says things like "Humble yourself to the Lord and he will lift you up." And Fargas is so good and persuasive in this role that's it's enough to make even a callow, cynical TV critic say, "Amen."
Guess Who's Coming to Christmas
finds Lachey in the role of an aimless pop singer named Dax. His record sales are slumping and it gets worse for him after the New York paparazzi swarm to the sight of a passed-out drunken Dax clutching a frozen Thanksgiving turkey in his car's passenger seat.
Dax's manager, Jason (Matt Word), strong-arms him into an image-rebuilding contest in which he'll spend the week before Christmas with a deserving fan before performing in a climactic holiday concert. The venue turns out to be dinky Cedar Grove, Illinois, with Dax miserably stuck in a farm house populated by a church reverend, his wife and their two kids. One of them is 26-year-old Kelly Harding (MacKenzie Porter), who's living at home again after being laid off as a book jacket writer. Porter is very appealing in this role. Meanwhile, Pastor Harding (Peter Lacroix) provides the stern but benevolent moral backdrop. After a blotto Dax tumbles into the church manger, he's informed that "in this family, we don't give up on people. I hope you don't give up on yourself."
Contemporary Christmas movies generally bury any church-going or Bible passages under at least a foot of snow.
Silver Bells
and
Guess Who's Coming to Christmas
are distinctly different in that respect. And they by and large succeed in pulling it off.
So yes, it felt surprisingly good to play along. The UP network means well while trying hard to break through and make a little name for itself. In these cases, it's a pleasure to spread the word about movies that have predictable but satisfying outcomes -- but go against the grain in getting there.
GRADES
Silver Bells
-- B-minus
Guess Who's Coming to Christmas
-- B
Email comments or questions to:
unclebarky@verizon.net