06/29/18 11:56 AM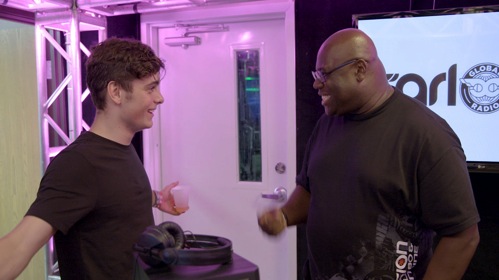 New/old schools: Electronic Dance Music DJs Martin Garrix/Carl Cox.
Photo: Bert Marcus Productions
By ED BARK
@unclebarkycom on Twitter
Everybody and everything has an origin story, and this one is both ear- and eye-opening.
What We Started
, arriving Sunday, July 1st on Netflix, charts the evolution of EDM in relatable terms for both devotees and those who have no idea what that is. Electronic Dance Music, whose top DJs draw stadiums and clubs full of throbbing fans, is vividly traced back to the disco era by Bert Marcus and Cyrus Saidi, co-directors and writers of this 90-minute documentary film. What a long, strange head-swerving trip it's been.
The film's focal points are Dutch DJ sensation Martin Garrix and old school Britisher Carl Cox. Never heard of either? Join my club. But getting to know them during
What We Started
is both painless and exhilarating.
At the film's beginning, Garrix, then 18, is nervously girding himself to headline for the first time at Miami's 2015 Ultra Music Festival. At the other end of the dance music teeter totter, Cox is hanging it up after a 15-year residency at Spain's Space Ibiza club, where he'd sometimes spend as much as 10 consecutive hours pumping, thrusting and playing before packed houses.
Buildups to their respective arrivals and exits is intercut with the history of this gyrating genre. John Lyons, ID'd as a "nightclub pioneer," recalls that live band music used to be the only way to draw crowds. But then came the relatively short-lived disco era, with its piped-in, pulsating dance music and embarrassing accompanying fashion statements. Disco began dying, Lyons says, when "every Holiday Inn" converted its lounge into an easily parodied and ridiculed disco club.
Another kill shot was 1979's infamous, radio station-sponsored "Disco Demolition Night," which turned into an out-of-control event between twi-night doubleheader games at Chicago's Comiskey Park. The detonation of crates of disco albums damaged the playing field before thousands of crazed, drunken fans swarmed from the stands and caused the White Sox to forfeit a scheduled second game against the Detroit Tigers.
What We Started
includes footage of the carnage.
Disco eventually morphed into "House Music, Detroit Techno" and middle-of-nowhere Raves that various authorities targeted because of rampant drug use. The visuals from these times are revelatory, with running commentaries from pathfinders such as Disco Donnie, Dubfire, Seth Troxler, "grandfather of EDM" Dave Guetta (who also produced a breakthrough album by The Black-Eyed Peas) and Paul Oakenfold (who helped take EDM to another new level as the opening act for U2 during one of their world tours).
The filmmakers also have fresh interviews with better known music movers/shakers (to me at least), including Moby, Usher and Ed Sheeran, a former naysayer who initially says of dance music, "I don't get it. It's a laptop and a dude. And that's it."
But both Sheeran and Usher went on to collaborate with Garrix after his solo release "Animals" climbed to the top of Europe's mainstream charts.
Garrix, who as a kid dubbed himself "DJ Marty," says he "finished my first record when I was like 10 or something. I still have it. It's completely terrible. But I was super-proud of it."
Both Garrix and Cox are thoroughly likable, which adds poignancy to the latter's last hurrah at Space Ibiza and a rooting interest in the kid's big debut at the Ultra Music Festival. He killed it, of course. And a grateful Cox seems to genuinely mean it when he says, "If I've touched you with my music , all I can say is, 'Thank you.' "
The two of them eventually meet backstage at Ultra, and the admiration is mutual.
Unfortunately for Cox, his father never approved of his DJ avocation. And now that he has dementia, he likely never will, says Cox's supportive sister, Pam. "He doesn't remember."
In contrast, Garrix's father beams from backstage while his son conquers the Ultra Music Festival. The bond they share is the optimum, yet ever elusive outcome of any father-son relationship.
What We Started
deftly weaves it all together, bouncing between eras and their various beats while also playing a few heartstrings down the stretch. It's a trip well worth taking, whether you're a devotee of EDM or a neophyte like myself.
"One of the big challenges for me is to keep evolving, and to stay relevant," Garrix says near film's end.
What We Started
is a sturdy, vibrant step in that direction for those who likewise want to keep their learning curves finely tuned.
GRADE:
A-minus
Email comments or questions to:
unclebarky@verizon.net