NBC's Undateable looks to be worth more than a one-night stand
05/28/14 02:06 PM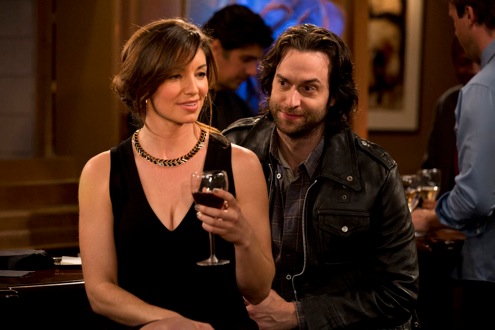 Bianca Kajlich and Chris D'Elia as sis/bro in Undateable. NBC photo
Premiering:
Thursday, May 29th at 8 p.m. (central) with back-to-back episodes on NBC
Starring:
Chris D'Elia, Brent Morin, Bianca Kajlich, Ron Funches, Rick Glassman, David Flynn
Produced by:
Bill Lawrence, Adam Sztykiel, Jeff Ingold
By ED BARK
@unclebarkycom on Twitter
NBC's latest sitcom provides an easy layup of a punchline for those who don't like it. Namely: "
Undateable
also happens to be unwatchable."
Hi yo! Hoo hah! Hardy har har with a rim shot chaser.
But compared to recent high profile comedy flops starring Michael J. Fox, Sean Hayes and Robin Williams,
Undateable
turns out to be a much lower profile upgrade starring the best thing about
Whitney
. That would be Chris D'Elia as 29-year-old "sexual juggernaut" Danny Burton, who has no discernible job but effortlessly plays the field at all nine positions.
NBC sent out the first six episodes of
Undateable
, which will air in pairs on Thursday nights as lead-ins to
Last Comic Standing
. Danny, his band of misfit pals and a saucy but stable sister named Leslie (Bianca Kajlich) provided enough amusement to get your friendly content provider through all of them.
Undateable
can be uneven and sometimes even just a bit unbearable. But its cock of the walk carries the ball while also contributing a steady stream of sound effects, riffs and, in Episode 6," a very amusing sequence built around "The Move," which involves sex and requires doubters to apologize in a heavy Italian accent while pretending to cradle a little mouse. You'll have to be there.
Undateable
's executive producer, Bill Lawrence, is also the principal mind behind
Scrubs, Cougar Town
and TBS' new
Ground Floor
. The latter comedy series presented an interesting situation for actress Briga Heelan, who's billed as a "guest star" on
Undateable
despite being very much a part of five of the first six episodes as a bartender/waitress named Nicki.
It turns out, though, that Heelan's principal commitment was to Lawrence's
Ground Floor
, in which she co-stars. But he ended up wanting her for both shows, and has pretty much made that happen by juggling shooting schedules while NBC bided its time with
Undateable
. Still, she's a "guest star" throughout and is not mentioned in network publicity materials.
OK, let's meet the other actual regular cast members of
Undateable
. Justin Kearney (Brent Morin) is Danny's new straight arrow, shy-with-the-ladies roommate. He also owns Detroit's Black Eyes bar, which regularly is confused with Black Guys in the show's lamest running joke.
One of Danny's and Justin's barfly pals in fact is an obese, candy-loving black guy named Shelly (Ron Funches). There's also gay Britisher Brett (David Flynn) and nerdy, bespectacled Burski (Rick Glassman), who easily could fold seamlessly into the cast of
The Big Bang Theory
.
Black Eyes is supposed to be only a marginally successful bar. So other than the principals, there aren't that many other patrons. Still, it's a funny thing about bar comedies. No matter how loud the conversations or the physical comedy, everyone else is completely oblivious. Even when Danny very actively demonstrates "The Move" or Leslie sobs in a loud voice.
Most of the episodes are built around Danny goosing Justin into dating or sexual action, only to embarrass him and then semi-apologize. D'Elia plays this role somewhat in the mode of Charlie Sheen's Charlie Harper during what now seem like the halcyon years of
Two and a Half Men
. But Danny Burton looks unkempt in comparison, a hound dog with oily longish hair, 10 days worth of beard and a regularly seen, somewhat ratty bathrobe.
The writing can be both sharp and sophomoric, with Thursday's premiere episode offering evidence on both fronts. Leslie, striving to "get back in the game," greatly irks brother Danny by trying to do so with Justin. But nothing happens in the sack, and Leslie now is worse for wear thanks to the after-effects of a figure-enhancing $80 dollar bra that hurt to wear.
"You ever tried to squash your nuts together so a buncha guys could stare at 'em?" she asks. Danny for once is speechless, but think about it.
Leslie quickly craters, though, with a followup one-liner on sleeping platonically with Justin "like two sad, paralyzed people they happened to put in the same hospital bed."
Three of the principal cast members -- Morin, Funches and Glassman -- are standup comics by trade. Sometimes they're obviously doing bits while trying to stay in character. But sometimes they score, too, as when Funches has a crack-up segment on having a "big-ass head" as a little kid.
Undateable
airs in times when summer series aren't always the throwaways they used to be. This may not be a keeper but it may well grow on viewers rather than wear on them. Hey, you weren't expecting another
Seinfeld
. Right?
GRADE:
B-minus
Email comments or questions to:
unclebarky@verizon.net